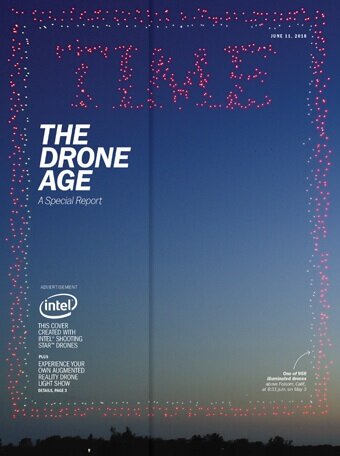 Intel recently worked with TIME magazine to create the media outlet's special issue on drones.
On Thursday, Intel and TIME unveiled the June cover of the all-drone issue – an image created entirely by 958 Intel Shooting Star drones forming the TIME logo. This marks the first cover in TIME's 95-year history that was captured via a drone camera, according to Intel.
The magazine, available today, also includes an article contributed by Intel's CEO, Brian Krzanich, highlighting what drones are bringing to the table today.
Other Intel Shooting Star performances have taken place at the Olympics, CES 2018, Super Bowl LI, Walt Disney World, Dodger Stadium and Coachella.
More on the TIME issue can be found here, and a video showing how the cover was made in Folsom, Calif., can be seen below: