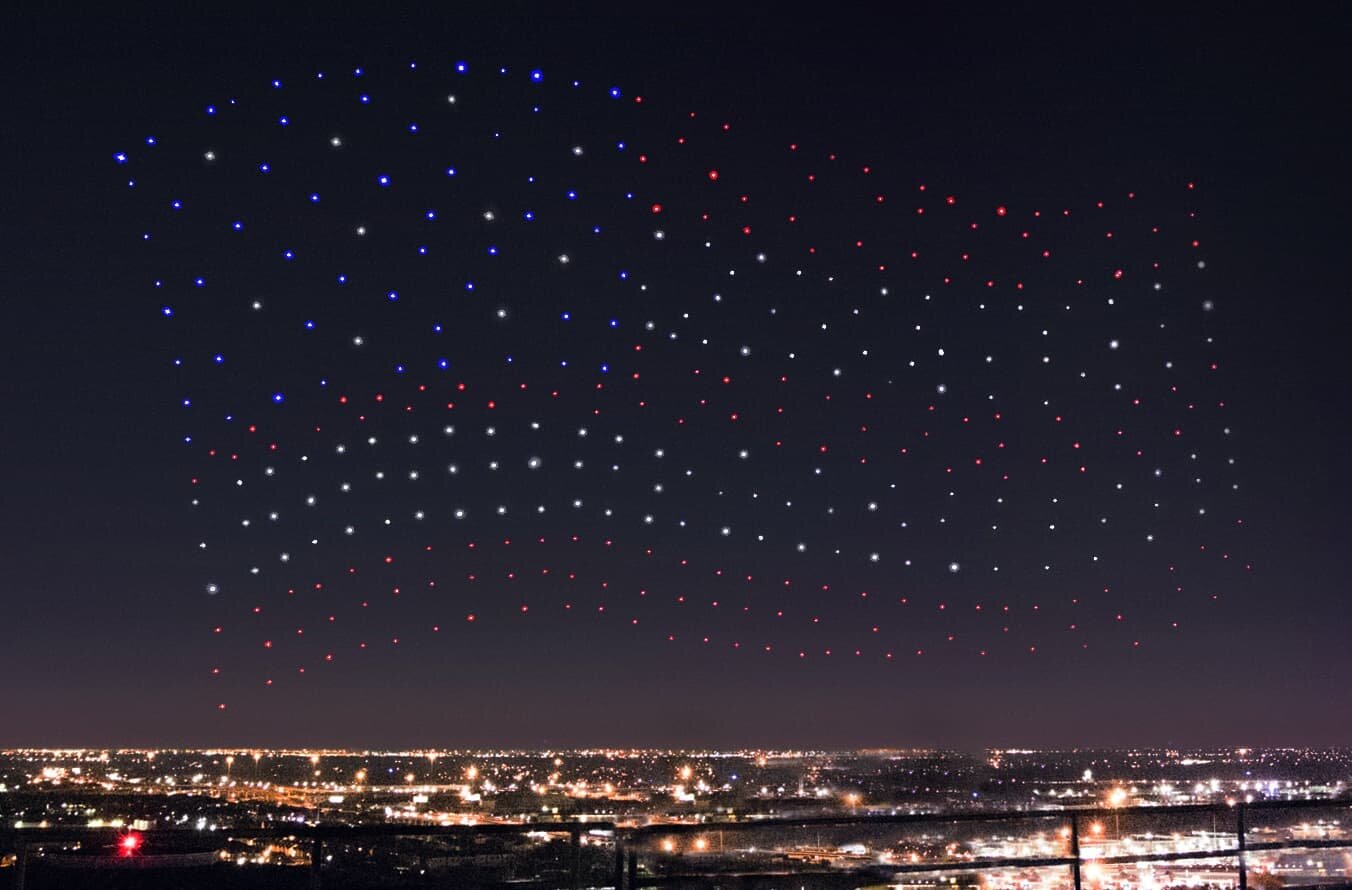 Well, the Patriots put on quite a performance last night, but the drones used as part of Lady Gaga's Super Bowl halftime performance certainly stole the show for a little while. Specifically, Intel Corp. teamed up with Pepsi, the National Football League and the Grammy-winning music icon herself to put together a 300-drone aerial performance.
As Lady Gaga's performance began, Intel Shooting Star drones created a backdrop of colorful formations in the sky, including twinkling stars that transformed into red and blue moving stars before creating the American Flag for a finale that brought Lady Gaga onto the field. Additionally, the aircraft finished out the halftime performance by forming the Pepsi logo in the sky.
The Intel Shooting Star drones are the company's unmanned aerial vehicles (UAVs) specifically designed for entertainment purposes. The purpose-built quadcopters are equipped with LED lights that can create over 4 billion color combinations and be programmed for any animation, the company says. Intel notes that all 300 UAVs can be controlled by one computer and one drone pilot; however, for safety purposes, there is always a second pilot on hand.
The company says it can create a light show of this kind in a matter of days or weeks (depending on the complexity of the performance). Intel uses proprietary algorithms to automate the animation-creation process by using a reference image, calculating the number of UAVs needed for the show, determining where the aircraft should be placed, and formulating the fastest path to create the image in the sky, the company explains in a fact sheet.
"Lady Gaga and the Super Bowl creative team wanted to pull off something that had never been done before, and we were able to combine Intel drone innovation with her artistry to pull off a truly unique experience," says Josh Walden, senior vice president and general manager of Intel's New Technology Group.
At the conclusion of the Pepsi Zero Sugar Super Bowl LI Halftime Show, Intel also ran a 10-second spot featuring the Intel Shooting Star drones, which morphed from the Pepsi logo into the Intel logo.
Notably, according to a USA Today report, the drone portion of the performance was actually pre-recorded: In order to avoid potential weather issues, the company opted to film the light show last week instead.
Intel says it received permission from the Federal Aviation Administration to fly the aircraft up to 700 feet in altitude. In addition, it obtained a special waiver to fly them in restrictive class B airspace.
The company describes its Shooting Star drones as "quadcopters with encased propellers." Each weighs roughly 280 grams – less than the weight of a volleyball – and is constructed with a "soft frame made of flexible plastics and foam," says Intel.
Late last year, Intel and Walt Disney Parks and Resorts teamed up for similar performances at Disney World – a choreographed holiday show made up of the same drones.
"The potential for these light show drones is endless," adds Walden, "and we hope this experience inspires other creatives, artists and innovators to really think about how they can incorporate drone technology in new ways that have yet to even be thought of."