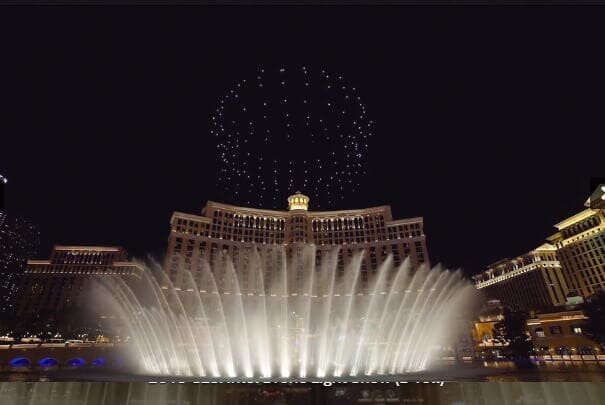 Intel is bringing its drone light show to the Las Vegas Strip this week during the Consumer Technology Association's CES 2018.
Every night, audiences can view a fleet of 250 Intel Shooting Star drones in the sky. The performance is located over the Fountains of Bellagio and is integrated with a rendition of the song "Stargazing" by artist Kygo.
The performances began on Monday following Intel CEO Brian Krzanich's CES keynote and are taking place twice-nightly through Thursday. The light shows mark the first time that drones have flown over the famous Fountains of Bellagio, notes Intel.
The company's drone-based light shows feature hundreds of Intel Shooting Star drones all controlled by one pilot. The aircraft, custom-built for entertainment purposes, feature a lightweight structure and emit more than 4 billion color combinations. Previous performances have taken place at Super Bowl LI, Walt Disney World, Dodger Stadium and Coachella.
Notably, Intel says it also set a new Guinness World Record during Krzanich's keynote, when he presented an light show performed by 100 Intel Shooting Star Mini drones. According to Intel, this marked the record for the most drones flown simultaneously indoors by a single pilot.
The Intel Shooting Star Mini drone is Intel's newly designed drone for indoor light shows; it can safely navigate indoors where there is no GPS. The super-lightweight quadcopter can fit in the palm of a user's hand, Intel notes.
The Intel indoor location system helps the drone navigate indoor spaces, expanding the company's possibilities for choreographed drone light shows.