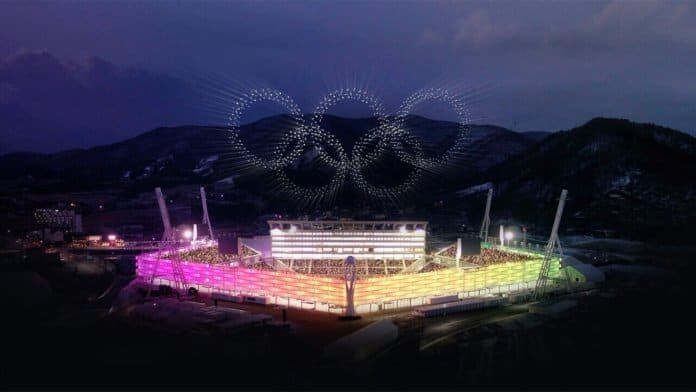 Intel made history for the Olympic Winter Games when 1,218 Intel Shooting Star drones were flown at once, representing a new Guinness World Record for the most unmanned aerial vehicles airborne simultaneusly.
Kicking off the 2018 Olympic Winter Games in PyeongChang, South Korea, viewers from around the globe watched the record-breaking light show during the opening ceremony. The show surpassed Intel's previous record of 500 drones flown simultaneously in Germany in 2016.
Intel says it designed and developed custom animations for the pre-recorded opening ceremony and nightly victory ceremony performances. This includes animations of different sports and various Olympic-related logos, including the formation of the iconic Olympic rings.
"The Olympics are a time when the sports and entertainment industries are buzzing with record-setting performances, so it was the perfect stage for Intel Shooting Star drones and our team to set their own kind of record," says Natalie Cheung, general manager of Intel's drone light show team.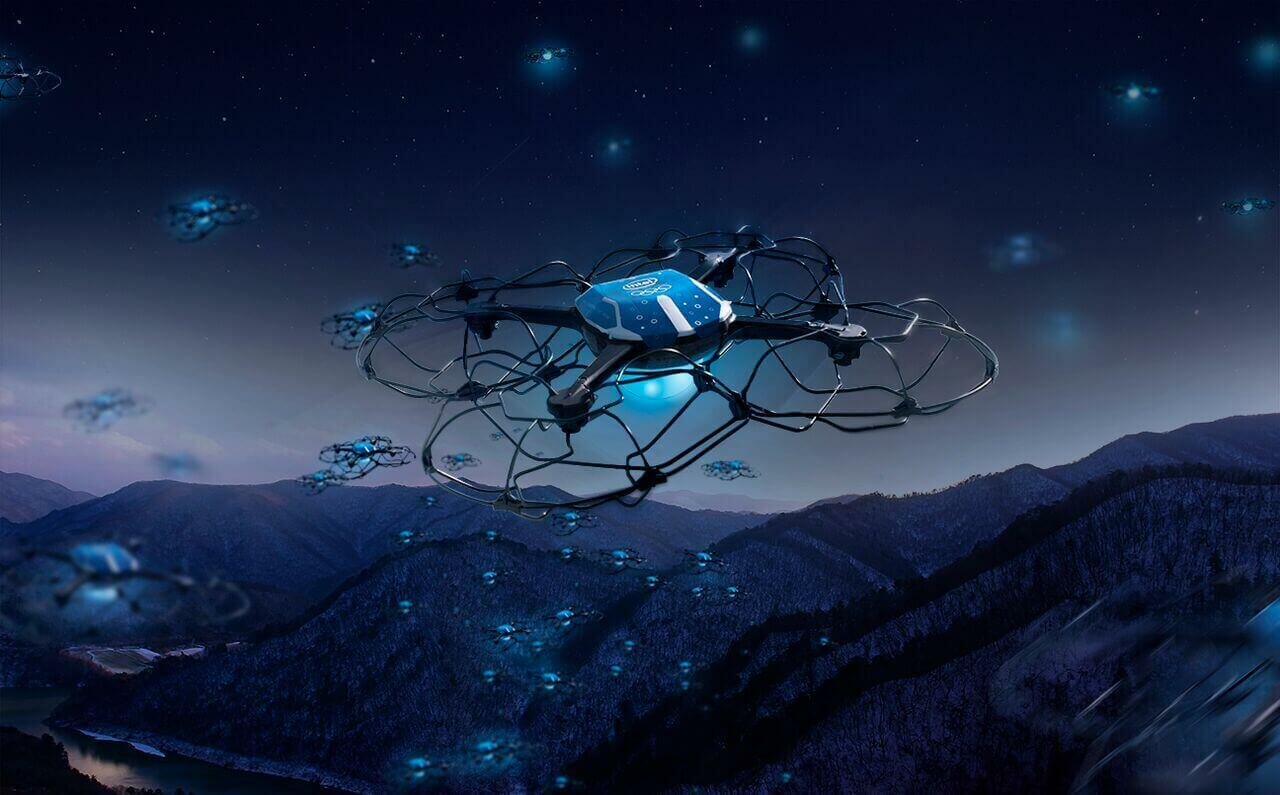 "It's been exciting for us to partner with Intel on the Winter Olympics, as they continue to push the limits with their advanced drone light show technologies," adds Sam Prosser, commercial director EMEA APAC Guinness World Records. "From flying 100 drones simultaneously in 2015, to 500 drones in 2016, and now more than 1,000 drones, the sky is the limit with entertaining through Intel drone light shows."
According to a statement from Intel, a live show was also supposed to be a part of the opening ceremony but was canceled due to "impromptu logistical changes."
"The live light show was in addition to the record-breaking flight that was performed in advance and shown during the ceremony," the company clarifies.
In addition, the PyeongChang Organizing Committee for the 2018 Olympic & Paralympic Winter Games (POCOG) says in a statement, "Our ceremonies team worked with Intel on having a live drone light show during the opening ceremony. During the ceremony, POCOG made the decision to not go ahead with the show because there were too many spectators standing in the area where the live drone show was supposed to take place."
Following the opening ceremony, Intel also ran a 30-second ad spot featuring Intel Shooting Star drones and their entertainment possibilities. The company says its drone technology will enhance the Olympics through 2024.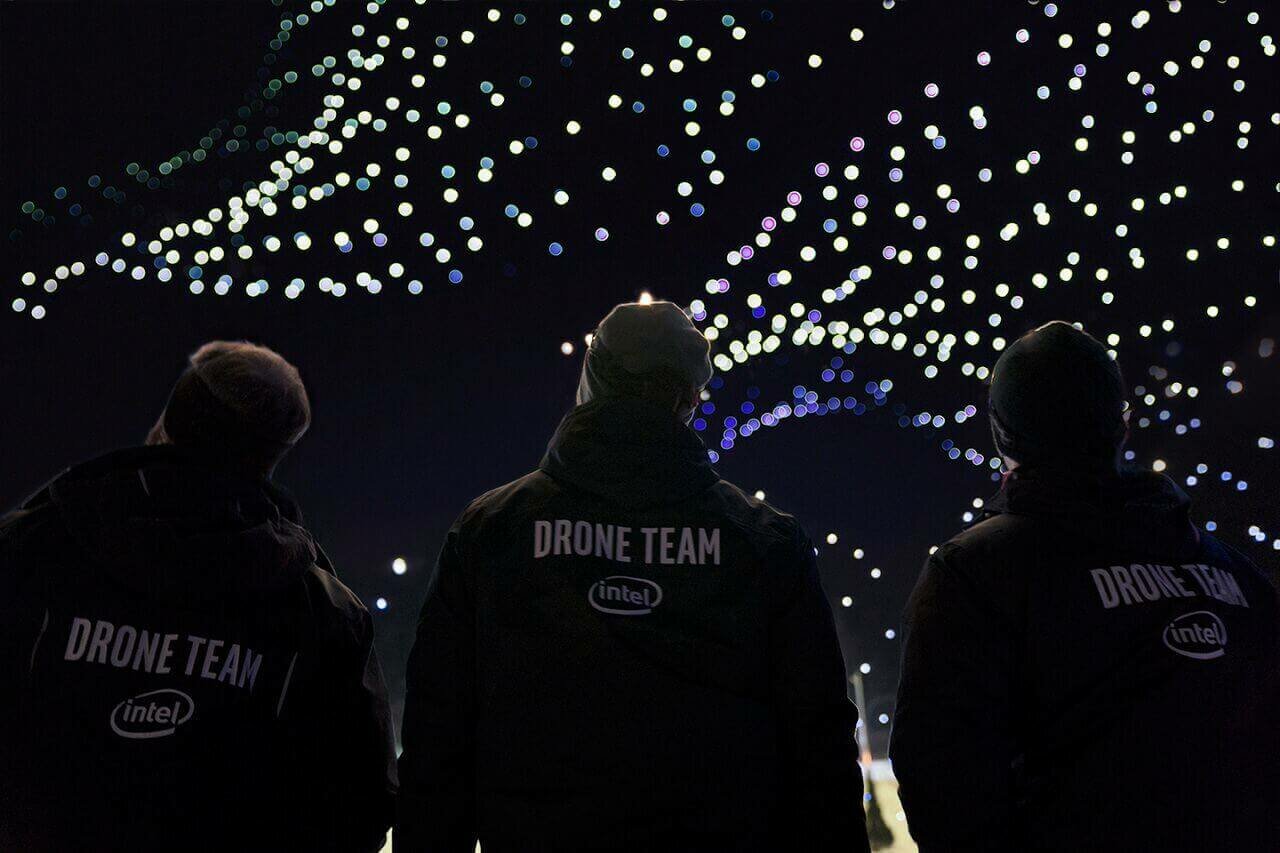 The Intel Shooting Star drones, specifically designed for entertainment purposes, are equipped with LED lights that can create countless color combinations and be programmed for any animation. The fleet of drones is controlled by one pilot, notes Intel. Previous performances have taken place at CES 2018, Super Bowl LI, Walt Disney World, Dodger Stadium and Coachella.
"We are honored to have Intel drones playing several roles at the Olympic Games," says Anil Nanduri, vice president and general manager of the Intel Drone Group. "Not unlike the athletes competing in the events, we continue to push to innovate and develop the drone technologies that inspire people all over the world."