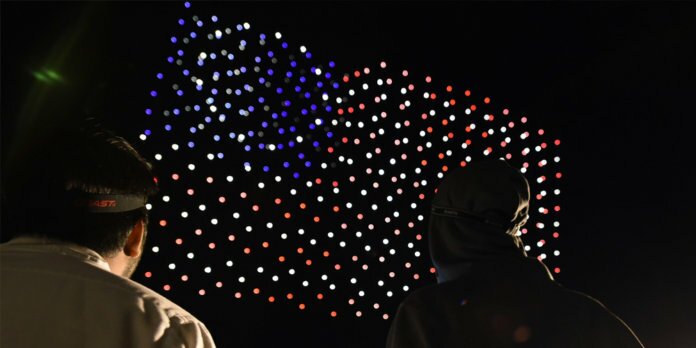 Travis Air Force Base in Fairfield, Calif., is teaming up with Intel to replace its traditional Independence Day fireworks show with an Intel Shooting Star drone light show.
In celebration of the Fourth of July and Travis Air Force Base's 75th anniversary, 500 Intel Shooting Star drones will perform in a choreographed aerial routine that honors active military and veterans, Intel explains.
"We are excited to collaborate with the Travis Air Force Base to celebrate the July Fourth holiday by bringing a new form of nighttime entertainment to honor the military and their families," says Anil Nanduri, vice president and general manager of the Intel drone team. "I am looking forward to seeing the joy and excitement that our drone light show brings to the spectators."
Intel notes that the light show will also be suitable for those with sensitivities to the sound of fireworks.
"While fireworks amaze audiences of all ages, there are pollution and safety concerns, and the loud sound effects are sometimes unsettling to humans and animals alike," Nanduri adds. "This partnership showcases how Intel's advanced drone technologies are making strides to positively impact the world and create new entertainment experiences for all audiences."
"The story of the Air Force is a story of innovation. With Travis in close proximity to Silicon Valley, the base strives to develop relationships and to play an active role in northern California's innovation ecosystem," says Col. John Klein, Travis Air Force Base's installation commander. "For our 75th anniversary and as a way of saying thank you for the unprecedented community support, we wanted to treat our friends and family to a special Independence Day celebration; Intel's vision to reimagine fireworks with cutting-edge drone technology was a natural fit for our airmen and audience."
Intel recently worked with TIME magazine to create the media outlet's special issue on drones. Other Intel Shooting Star performances have taken place at the Olympics, CES 2018, Super Bowl LI, Walt Disney World, Dodger Stadium and Coachella.