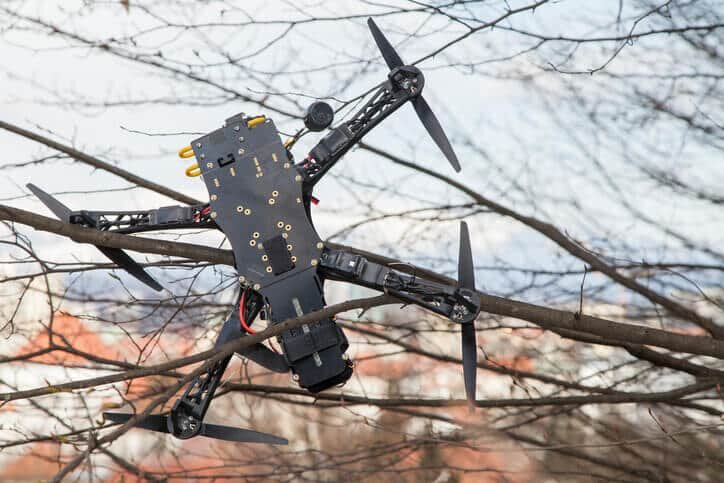 A lawmaker in Oklahoma recently proposed a bill that would grant immunity to anyone who voluntarily "damages or destroys" an unmanned aircraft system (UAS) under certain conditions.
The text of the bill, S.B.660, rolled out by Republican State Sen. Ralph Shortey, states as follows:
"Any person owning or controlling real estate or other premises who voluntarily damages or destroys a drone located on the real estate or premises or within the airspace of the real estate or premises not otherwise regulated by the Federal Aviation Administration or where a reasonable expectation of privacy exists, shall, together with any successors in interest, if any, not be civilly liable for causing the damage or destruction to the property of such person."
Further, the legislation describes a drone as a "powered, aerial vehicle that carries or is equipped with a recording device that does not carry a human operator, uses aerodynamic forces to provide vehicle lift, and can fly autonomously or be piloted remotely." According to the history of the bill, the legislation was most recently passed by a Senate Judiciary Committee.
Yup, under S.B.660, you'd be able to shoot down a drone – which, as pointed out by the Unmanned Systems Alliance of Oklahoma (USA-OK), is, indeed, illegal.
Jamey Jacob, president of USA-OK, which is the Oklahoma chapter of the Association for Unmanned Vehicle Systems International, clarified with UAO that shooting down either a manned or unmanned aircraft is a federal crime – "and for good reason," he says, noting the "serious risk to people and property both in the air and on the ground."
In addition to gas-powered drones, Jacob points out that the majority of UAS are run with lithium-polymer batteries, which can "violently explode and catch fire" if punctured but are generally "extremely safe in normal operation," he notes.
"In the best-case scenario, a damaged aircraft will crash, possibly uncontrollably – creating an unintentional hazard," he warns. "With the current fire danger across the state, this alone is a cause for serious concern."
Likewise, in a blog from the Academy of Model Aeronautics (AMA), the group explains that Shortey's bill "attempts to protect privacy," but because it "encourages individuals to destroy or shoot down model aircraft," it is "extremely problematic."
"We unequivocally support the protection of individual privacy, but individuals who follow this bill will face severe federal penalties," AMA says in the blog post, which adds that the legislation is also "unlawful and counter to federal regulations."
Furthermore, in a statement to UAO, Chad Budreau, public relations and government affairs director at AMA, notes that the bill "may run afoul of the FAA's regulatory authority over the nation's airspace."
"We hope the Oklahoma legislature will reconsider this legislation and work with us to limit the burden on the existing community of responsible UAS enthusiasts," he adds.
On the other hand, Shortey wrote in a Facebook post in response to a public comment, "I think this is a very commonsense bill that balances the privacy rights of citizens and gives them the ability for recourse if their privacy is being violated."
The senator also said the legislation "puts the impetus on the drone operator": Should operators violate a "citizen's reasonable expectation of privacy," he says, "they could end up losing that drone."
"It forces them to ensure that they are operating them properly, legally and in the right airspace," he says.
In other replies to comments on his Facebook page, Shortey also noted that the bill would not "interfere with the legitimate and legal use of drones" (in response to a comment that said UAS are also "used to catch bad guys") and would not affect, for example, companies that use unmanned aircraft to inspect power lines.
The senator's response was that power lines are located "in an easement where the citizens don't have a reasonable expectation of privacy."
"Inherently, the power company doesn't own the property, but because [they] have a right to it, then the citizen has no privacy claim there," he wrote. "So if a citizen were to damage or destroy one in the easement, then the company would have legal recourse to recover costs associated with that damage. Also, this bill does not absolve someone of any criminal liability associated with their action."
Notably, according to his biography from the Oklahoma State Senate, Shortey's "priorities in the legislature" include "personal liberty," as well as "strengthening public safety."
On a slightly similar front, last year in California, Gov. Jerry Brown signed into law S.B.807, a bill that gives "civil immunity to an emergency responder who damages an unmanned aircraft in the course of firefighting, air ambulance or search-and-rescue operations." However, this legislation pertains only to emergency rescue personnel who come across unauthorized UAS that could impede their operations.
Last year, a lawsuit concerning the rights of UAS operators versus property owners was filed in the U.S. District Court of Western Kentucky. Law firm Frost Brown Todd's client, Kentucky resident David Boggs, filed the suit against William Meredith, who had used a gun to take down Boggs' drone over Meredith's property.
Meredith said the drone had trespassed on his property and, thus, invaded his privacy, and although the shooter first faced criminal charges, they were dropped by a judge who said Meredith "had a right to shoot" the aircraft.
In a statement issued last year, James Mackler, Boggs' legal counsel, brought up the "tension" that exists between "private property rights and the freedom to use the national airspace."
"Property owners deserve to be free from harassment and invasion of their privacy," he said. "Likewise, aircraft operators need to know the boundaries in which they can legally operate without risk of being shot down."