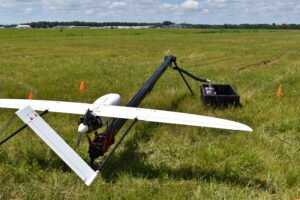 Buffalo, N.Y.-headquartered Calspan, a provider of independent research and testing services in the aviation and transportation industries, has announced the acquisition and modification of a long-range, fixed-wing unmanned aircraft system (UAS) for aerial surveying, LiDAR mapping and photography.
The new drone, adding to the company's fleet of aircraft, will be used in markets that service public utilities and government agencies, the company says. The UAS offers a 20-hour flight duration, modular payload system and fail-safe parachute recovery system. Calspan notes it has also obtained approval from the Federal Aviation Administration for commercial drone operations under Part 107.
The drone operations will be based at Calspan's 80,000-square-foot aerospace facility at Niagara Falls International Airport in Upstate New York. The drone will be transported to various locations in western New York and Pennsylvania for missions such as monitoring the status of pipelines, rights-of-way, waste storage facilities and other infrastructure components that belong to government agencies and public utility companies.
Calspan says it is also developing sensor payloads, beyond-line-of-sight communications systems, and other related equipment that can complement the drone's long-range capability. In addition to conventional imaging, the sensor suite will include infrared photography, real-time video, LiDAR and gas-leak detection.
"As a global leader in aviation innovation for more than 70 years," says CEO Lou Knotts, "Calspan is excited about developing small unmanned aircraft technology to meet the needs of the markets we serve."