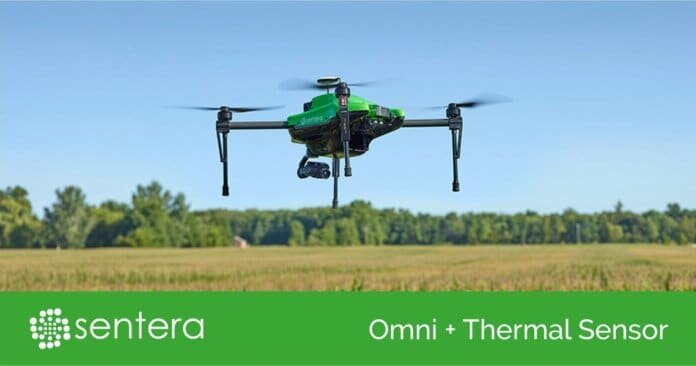 Minneapolis-based Sentera, a designer and manufacturer of remote sensing technologies for precision agriculture, has announced the capability of its Omni quadcopter drone, which can capture three distinct crop health data measurements in a single flight: thermal, normalized difference vegetation index (NDVI) and high-resolution RGB.
Pairing a DJI XT thermal sensor with Omni's standard Double 4K offers agronomists, crop consultants, advisors and producers an agriculture data capture tool that offers multi-dimensional insights, explains Sentera.
Though no sensor can diagnose specific diseases in plants, the Sentera Omni drone with thermal, NDVI and RGB data-capture capabilities gives ag professionals a head-start in detecting and diagnosing issues earlier and more efficiently, according to the company.
Kris Poulson, vice president of agriculture for Sentera, says, "The ability to quickly and accurately pinpoint plants that appear to be sick is critical. With this knowledge, users can quickly ground-truth the area and take the appropriate action before a problem potentially gets worse."
Thermal technology is also ideal for the irrigated crops, notes Sentera. A thermal measurement can quickly show where areas within a field are under- or over-irrigated or where equipment is malfunctioning.
Thermal sensors are also useful when users need to locate or confirm the installation of subsurface drainage: "Historically, the most common way to detect pre-installed drain tile was to probe and dig, which was extremely inefficient and time-consuming," says Poulson. "Now, through thermal technology, users can identify cooler areas of a field which would be an indication of the presence of drain tile. Users then can focus their efforts on that area."
The Omni drone with the DJI XT thermal sensor is also compatible with Sentera's other Double 4K sensor variants, including the multispectral Double 4K sensor. The DJI XT thermal sensor and Sentera Double 4K sensors are available through Sentera's dealer network.
"We are excited to respond to our customers' unique application needs and extend the Omni Ag system's already robust payload capabilities to include thermal imaging," adds Poulson. "The ability to access three precise layers of data in one flight helps create an even greater scouting experience. The added ability to capture thermal data allows professionals to further evaluate plant health and practices as reflected through plant and soil temperatures."