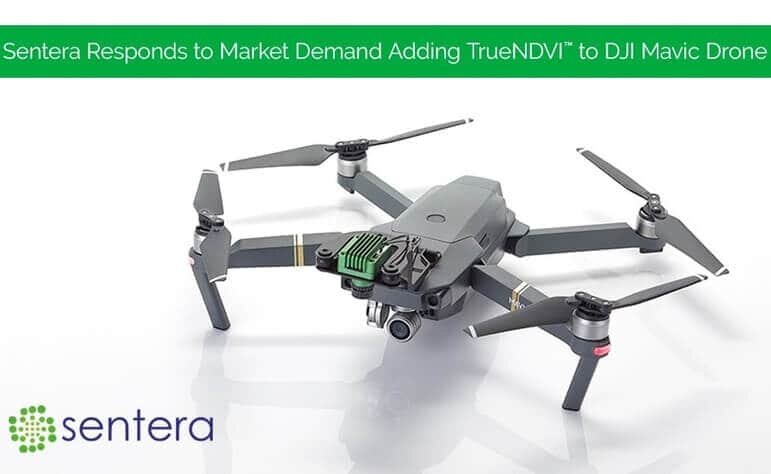 Turning DJI's Mavic drone into a precision scouting tool, Sentera, a Minneapolis-based provider of remote sensing technologies, has added its trademarked TrueNDVI capabilities to the aircraft.
The lightweight Sentera NDVI Single Sensor is now integrated onto the portable Mavic drone, which DJI first introduced last September. In one flight, users will be able to capture visual-band RGB, near-infrared and normalized difference vegetation index data simultaneously. The data can then be interpreted in the field to detect problem areas.
"The Mavic with True NDVI upgrade is a highly anticipated offering for our customers who have been seeking a compact, easily transportable drone for the 2017 growing season," remarks Kris Poulson, vice president of agriculture for Sentera. "Growers and agronomists are keenly interested in this platform due to its collapsible design, affordability and precision. We have growers looking to use this now as their first crops emerge, and they have an opportunity to make influential input decisions."
According to Sentera, the Mavic offers a flight time of 27 minutes and features obstacle-avoidance technology. With Sentera's TrueNDVI upgrade, a NDVI Single Sensor is installed onto the airframe, but the factory-supplied DJI Mavic three-axis gimbaled camera is left untouched. Sentera notes that this preserves the full functionality of the 12-megapixel, 4K stock sensor.
"Our customers located in the southern states are already deploying drones upgraded with a Sentera NDVI Single Sensor to capture early growth data and maximize the 2017 yields," Poulson adds.
Existing Mavic drones can be sent directly to Sentera or a Sentera-authorized reseller for modification. Growers who want to obtain a new Mavic drone with NDVI capabilities can purchase an integrated system directly through Sentera or its resellers.
Just last month, Sentera also brought the same functionality to the DJI Phantom 4.