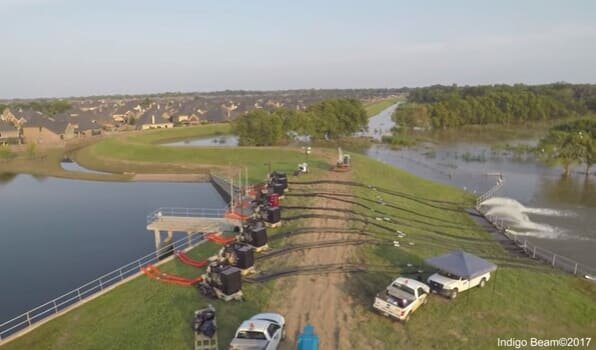 For damage assessment following Hurricane Harvey, Houston-based business consulting company Indigo Beam is working with disaster response teams and state and local law enforcement to provide small unmanned aircraft system (UAS) operations in the vicinity of Houston.
According to Troy Turcott, flight operations director for Indigo Beam, the company is using a Certificate of Authorization from the Federal Aviation Administration to fly drones in the heavily impacted Missouri City, Texas, subdivisions in Fort Bend County's Riverstone development, located near the Brazos River.
The company says over 1,000 homes on the "safe side" of the levee within Levee Improvement District (LID) #19 were inundated as a result of lift station pumps being overwhelmed by the volume of water from the hurricane. Indigo Beam is providing UAS videography and 3D mapping services for Maverick Pump Services out of Littleton, Colo., on behalf of Levee Management Services of Sugarland, Texas.
According to a press release from Indigo Beam, Teles Fonseca of Maverick Pump Services says the lift station's pumping capacity of 88,000 gallons per minute in LID #19 was increased by approximately 160,000 gallons per minute by eight additional emergency pumps in an attempt to keep the water from rising further by matching the inflow rate from Bullhead Slough and Steep Bank Creek.
Water began receding from the numerous subdivisions on Sept. 3, and supplemental pumping efforts continue.
Fonseca says, "Indigo Beam provided a valued service, critical to fully documenting the disaster recovery efforts going on here at LID #19."
Indigo Beam is among a group of UAS operators permitted to fly drones within the restricted airspace surrounding the Houston area.