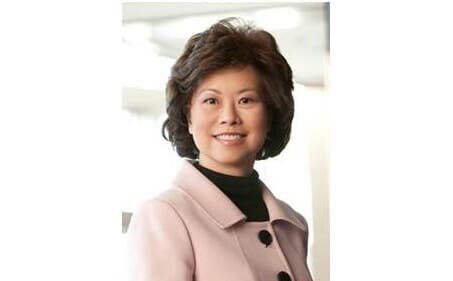 As a keynote speaker at last week's third annual Drone Focus Conference in Fargo, N.D., Elaine Chao, newly elected secretary of the U.S. Department of Transportation (DOT), addressed the future of unmanned aircraft systems (UAS), including the integration of the technology into national airspace – what she called "the biggest technological challenge to aviation since the beginning of the Jet Age."
U.S. Sen. John Hoeven, R-N.D., says he hosted Chao at the conference to "meet directly with local UAS leaders; highlight the state's unique UAS research, development and operations; and make the case for North Dakota to take the lead in these emerging areas." The conference also included roundtables with Chao and stakeholders from North Dakota's UAS facilities.
In her speech at the event, Chao brought up recent initatiaves the DOT and Federal Aviation Administration (FAA) have undertaken to further advance the drone industry: launching 130 UAS facility maps to "help the FAA to process airspace requests more quickly" – more of which will be released over the next few months; creating a Drone Advisory Committee "to identify solutions to advancing UAS integration" and an Aviation Rulemaking Committee to "recommend technologies for remotely identifying and tracking unmanned aircraft during operations"; working with industry, researchers and the government on a "series of studies that will help inform the parameters for safe drone flights over people" as part of a "pilot program designed to let local communities try different regulatory concepts for controlling drone activity"; and working on drone-detection technology at airports.
Notably, Chao discussed the Trump administration's FY 2018 budget proposal, which includes a "multiyear effort to modernize our country's air traffic control system," considering the airspace is becoming "more complex and congested every day," she explained.
The proposal, Chao said, "would separate the operation of our country's air traffic control system from the safety oversight functions of the FAA."
"Air traffic control operations would be split off as an independent, nonprofit cooperative, while the FAA and its safety oversight functions would remain at the Department of Transportation. A key goal is to increase the capacity of our national airspace with the latest technology so it can accommodate the expected increase in traffic, as well as new entrants like drones."
She also noted the "drone-friendly reputation" of North Dakota, which is home to the Grand Plains UAS Test Site; the Grand Forks Air Force Base; Grand Sky, a UAS business/aviation park; and the Center for UAS Research at the University of North Dakota.
"We are advancing UAS operations here in North Dakota unlike anywhere else in the nation," Sen. Hoeven states in a press release. "Now that we have secured authorization for beyond-line-of-sight flights, it is vital that federal agencies are able to keep up with the innovations of industry and our state stays on the cutting-edge of UAS applications, including low-altitude, beyond-line-of-sight flights and counter-UAS operations. That's why we worked to bring Secretary Chao to the state, so she could see firsthand our unique convergence of military, government and private UAS operations. By connecting her with our UAS leaders, we can help advance the integration of this technology into our airspace and continue strengthening our leadership in this emerging industry."
Chao concluded at the conference that "emerging technology requires a regulatory approach that ensures safety while encouraging innovation and preserving creativity."
"This last point is especially important," she said. "Creativity and innovation are part of the great genius of America – one of its hallmarks. We must safeguard and nurture this legacy. But it is also critical that Silicon Valley and other innovators step up and share with the public their understanding of new technology, and address legitimate public concerns about safety and privacy."