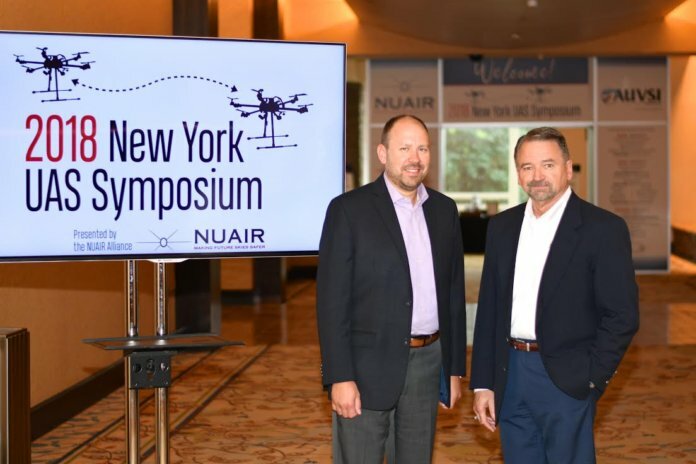 The Northeast UAS Airspace Integration Research Alliance (NUAIR) has signed a multiyear collaboration agreement with Thales, a provider of air traffic management.
The agreement supports NUAIR's efforts to safely integrate unmanned aircraft systems (UAS) into traditional, controlled airspace and supports its ability to conduct operations at its central New York UAS test site's 50-mile UAS traffic management (UTM) corridor.
Thales is working with NUAIR at the Griffiss test site to examine how an advancement in UTM could provide a glimpse into future airspace automation capabilities. Thales will do this by integrating the entire airspace situation into its software solution. This will enable NUAIR to track unmanned flights and keep operators a safe distance from manned aviation.
This agreement follows a recent notice by the Federal Aviation Administration (FAA) that Thales was named a Low Altitude Authorization and Notification Capability (LAANC)-approved partner to help directly support UAS integration into the NAS. Thales also established a presence in central New York at Syracuse University in 2017 as part of a broader UTM initiative to partner with organizations to advance UTM globally.
"This partnership helps advance the critical tools needed for beyond visual line of site testing; these are capabilities not found at any other test site in the nation," says Major General Marke F. "Hoot" Gibson (ret), CEO of the NUAIR Alliance and former FAA UAS leader. "This region is leading the industry and attracting partners from across the globe due to investments being made by New York State. We look forward to working with Thales and deploying this industry-leading technology in coming months, taking our capabilities to a new level."
Frank Matus, director of strategy and business development for Thales, adds, "No other location offers what New York does in the advancement of UAS traffic management and integration. Thales provides a unique value proposition to NUAIR. We are involved in airspace integration activities at a global level, enabling us to leverage global advancements while also actively promoting the region and the exciting technology and policy advancements taking place here."
Thales has deployed air traffic management solutions in more than 140 locations globally. The company says its solutions provide safe, efficient management for two out of every
three airplanes that fly every day.
The NUAIR Alliance, an organizational partner of CenterState CEO, manages the Griffiss drone test site.
"This partnership enables the test corridor to take an important step forward in its capabilities, which further establishes New York and the Mohawk Valley as a national leader in UAS testing and development," adds Robert Simpson, president of CenterState CEO. "We know the investments being made by the state are driving results and creating opportunities to advance the research and development of UAS technologies, which, in turn, is attracting new businesses to locate in the region."