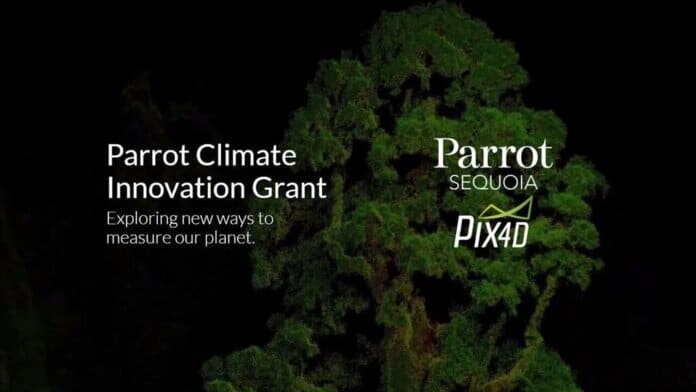 Pix4D and Parrot have announced six winners of a competition for researchers answering climate change questions with the use of drone mapping.
In December, Pix4D and Parrot announced they would award grants to help foster innovation around the impact of global climate change. In the end, they received over 250 proposals from researchers across a range of disciplines.
The companies say they selected the six projects based on novelty, scientific merit and team experience. They also considered advanced degrees, formal association with educational organizations or institutions, and a strong record of climate change research.
The grant winners have received a Parrot Disco-Pro AG that embeds a Parrot Sequoia multispectral sensor, a one-year Pix4D software license, and training to help them move their research forward.
The six winners are as follows:
Robert M. Pringle, an assistant professor at Princeton University, for "the role of climate in modulating wildlife instinctions in African drylands": "We want to use drone-based ecological monitoring to incorporate regular low-altitude image surveys of our plots into our regular long-term monitoring program."
Dr. Christopher B. Field, a professor at Stanford University, for "drone-based detection of grassland phenology, productivity and composition in relation to climate": "Our goal is to use a drone-mounted camera and multispectral sensor to map and monitor temporal and spatial variation in grassland in order to understand the role of climate variation in driving changes in grassland composition."
Dr. Gillian Maggs-Kölling, executive director of the Gobabeb Research and Training Centre in Namibia, for "growth dynamics of the lichen fields of the Central Namib Desert": "Our long-term goal would be to try and model productivity of the lichen-fields based on the multi-spectral bands (specifically the near-infrared and red edge bands), and in this way monitor the vigour and growth of the lichen fields. These data could inform land management practices in the uranium-rich Central Namib Desert."
Dr. Holly P. Jones, an assistant professor at Northern Illinois University, for "using drones to monitor grassland responses to shifting climate and restoration": "A multispectral camera will significantly reduce our workload because we would no longer have to overlay these images by hand to calculate NDVI and other measurements."
Lluís Brotons, senior researcher at InForest JRU in Spain, for "monitoring insect pest impacts in mediterranean forests": "We want to quantitatively assess the impact of the the pine processionary moth on pine forests at the forest stand scale (10-100 ha)."
Jeffrey Kerby from the Neukom Institute/Institute of Arctic Studies for "climate-driven greening of the Siberian Arctic": multispectral sensors on UAVs bridge ground to satellite scaling challenges": "Multispectral data will allow for direct radiometric comparisons with vegetation change patterns captured by satellite data."