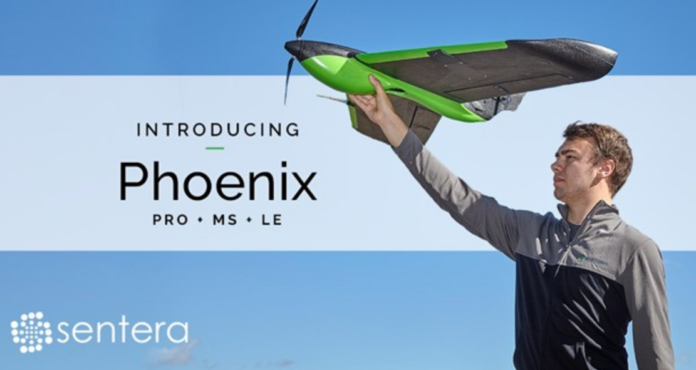 Sentera, a Minneapolis-based supplier of drone data solutions for the agriculture industry, has introduced its enhanced Phoenix fixed-wing drone product line, with variants to support the precision agriculture, mapping and public safety industries.
By pairing cutting-edge technologies with manufacturing efficiencies, the company says its Phoenix is a cost-effective solution that is easy to fly, accepts a variety of payloads, and covers more acres in less time than competitive options.
According to Sentera, the lightweight, highly durable Phoenix offers a complete solution, with payload starting at $10,990.
"Our customers depend on us to provide user-friendly drone solutions to collect the data they need at a price that makes sense," says Todd Colten, chief aerospace engineer for Sentera. "The Phoenix is a complete professional solution for the quick collection of highly accurate and detailed data – from crop health, to volumetric measurements, to search and rescue operations."
The company asserts that the Phoenix is easily hand-launched, weighing only four pounds, with an oversize motor, and that it can cover large areas quickly, with up to an hour of flight time at speeds of 35 mph. The autopilot ensures precision, constantly auto-calculating according to the grid pattern specified to ensure data collection meets exact specifications.
Live digital video allows the operator to monitor the ground from the sky in real time.
"Agronomists, crop consultants and growers fly their fields multiple times throughout a growing season, looking for comparative data," says Colten. "The Phoenix is a great solution for these crop-scouting missions, since it can be programmed to fly the exact same pattern multiple times, ensuring data comparability."
To optimize industry solutions, Sentera developed three distinct Phoenix variants:
Phoenix Pro: Ideal for precision agriculture and mapping activities;
Phoenix MS: Perfect for advanced volumetric readings; and
Phoenix LE: Designed for public safety missions.
Click here for more information and here to watch a 50-second video.