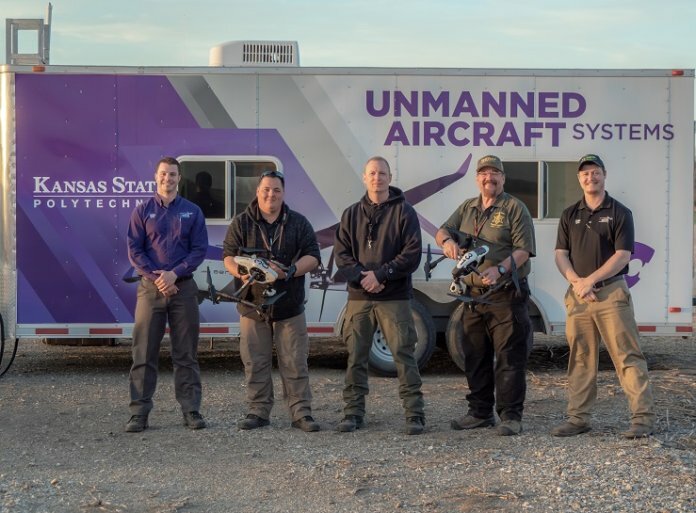 The Applied Aviation Research Center at the Kansas State University Polytechnic Campus is working with law enforcement partners to evaluate small unmanned aircraft system (sUAS) remote sensing technologies to reconstruct crime scenes.
Under a grant sponsored by the National Institute of Justice, the center is collaborating with the Kansas Bureau of Investigation, the Riley County Police Department and the Kansas City Police Department in Missouri to evaluate sUAS remote sensing technology and compare it to the conventional methodology of using terrestrial-based LiDAR – or laser-based remote sensing technology – for crime scene reconstruction.
According to the university, the project will use a comprehensive approach to compare sUAS photogrammetry and aerial LiDAR to terrestrial laser scanning at multiple test locations during the day and night.
Funding for this research, entitled "Evaluation of Terrestrial Laser Scanning and Aerial Remote Sensing with sUAS for Forensic Crime Scene Reconstruction," comes from a seven-month, $91,416 grant from the Research and Development in Forensic Science for Criminal Justice Purposes Program of the National Institute of Justice, part of the U.S. Department of Justice.
"The Applied Aviation Research Center has a mission to help introduce commercial UAS to various lines of business," says Kurt J. Carraway, the center's UAS executive director. "Additionally, we provide UAS flight training services to industry partners through our professional education and outreach program. Through this program, approximately 35 percent of the trainees come from the public safety area. Over the past year in particular, we developed strong relationships with multiple law enforcement agencies."
"With continued research in forensic documentation, identification, processing and reconstruction, the application of UAS operations has the possibility to positively impact and support public safety agencies in many facets of crime scene," adds M. Wade Cherms, crime scene investigator with the Riley County Police Department. "Conducting trials and testing could impact investigations from scene to courtroom by knowing what works in certain applications indicated through the collection of data."
Terrestrial laser scanning is an instrumental tool in accurately depicting various crime scenes for use in court, according to Robert Jacobs, assistant special agent in charge who oversees the Kansas Bureau of Investigation's Crime Scene Response Team.
"Terrestrial laser scanning is extremely helpful, but we're interested in seeing how the aerial data compares," Jacobs explains. "The aerial perspective has strong potential to provide more details in some instances and may be a quicker and less complex approach to collecting the data."
Through the use of quantitative and qualitative metrics, the team will evaluate each technology and produce a journal article detailing the equipment, methods and results of the research.