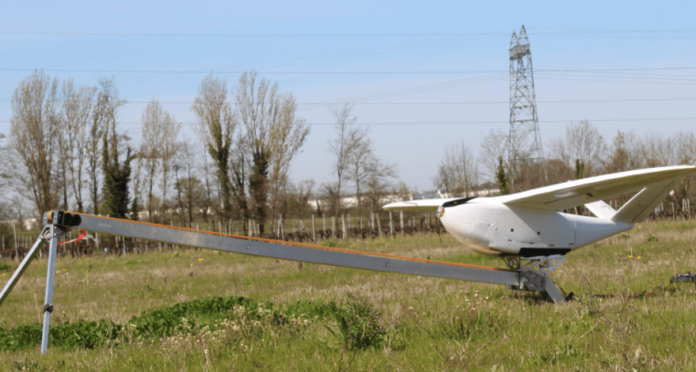 Delair-Tech says its DT18 and DT26X drones have been selected as the official choice for French government agencies purchasing fixed-wing unmanned aerial vehicles (UAVs).
The decision was made by the Union of Public Procurement Groups (UGAP), which acts as the purchasing conduit for government agencies across the country. The Delair-Tech drones will be added to UGAP's purchasing catalog, which is used by public agencies such as firefighters, the army, police forces, departmental governments, research laboratories, universities, and private companies with a public-service delegation.
In 2012, Delair-Tech says its DT18 became the first commercial drone certified as S4 by the French government – a designation that confirmed its ability to fly beyond the visual line of sight (BVLOS) of the operator.
The purchase contracts offered by Delair-Tech through UGAP will include integrated imagery sensors and all related accessories. The agreements will also provide training for two pilots, maintenance services, support in drafting documents required to register as a drone operator, and creation of a drone testing and training facility. They will also include the capability to process and analyze drone-collected data through the Delair-Stack software platform, the company says.
"We are delighted to have our UAV solutions – including hardware, software and services – available in the catalog of UGAP," states Michael de Lagarde, president and co-founder of Delair-Tech.
Within a few days of the deal's publication, an agreement was reached between European transmission company RTE and Delair-Tech on the purchase and training of UAVs. Recently, the two conducted a 30-mile, BVLOS flight via a 3G communication network.
de Lagarde adds, "For the surveillance market, the DT26 X offers a major competitive advantage through considerable economies of scale, with the drone capable of the same performance as a helicopter but for a price 10 times cheaper."