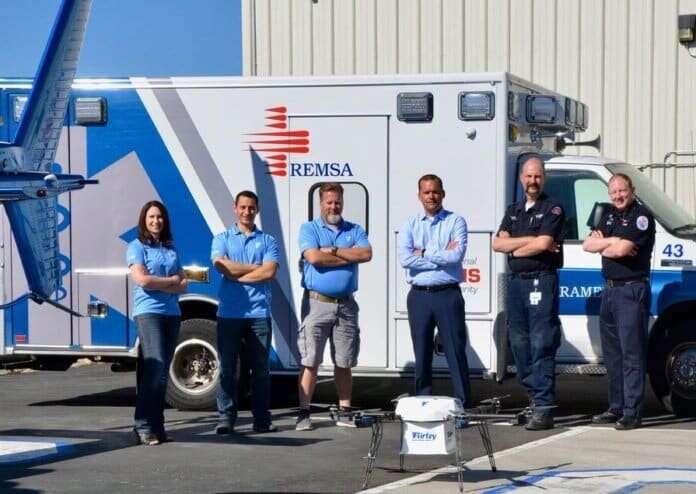 Drone delivery company Flirtey and REMSA, a community-integrated emergency medical services provider in northern Nevada, have announced a partnership to launch an automated external defibrillator (AED) drone delivery service.
Citing the American Heart Association, Flirtey says that for every minute victims of cardiac arrest wait to receive defibrillation, their odds of survival decrease by about 10%. By using drones to deliver AEDs, Flirtey's technology is aiming to help save lives.
Through the partnership, when REMSA's 9-1-1 communications center receives a cardiac arrest call, in addition to an ambulance, a Flirtey drone carrying an AED will be dispatched to the scene of the emergency. The partners note they are still working together on Federal Aviation Administration approvals and a public education campaign.
"Our mission is to save lives and change lifestyles by making delivery instant, and partnering with REMSA is another huge step towards this goal," says Flirtey's CEO, Matthew Sweeny.
The partners explain that emergency response times for ambulances can vary depending on their distance from the victim, traffic and call volume. Flirtey's delivery drones will be able to fly directly to the victim and deliver critical aid – allowing bystanders to begin administering care while they wait for paramedics to arrive.
The drone deployment program combines Flirtey's flight planning software with REMSA's specialized patient care and transport programs. In addition to its ground ambulance system, REMSA also operates Care Flight, an airplane and helicopter air ambulance service, as well as a critical care ambulance.
"REMSA is committed to improving the health of the communities we serve through innovative, pre-hospital care," adds Dean Dow, CEO of REMSA. "We're excited to incorporate Flirtey's drone delivery technology as part of our emergency response in northern Nevada."