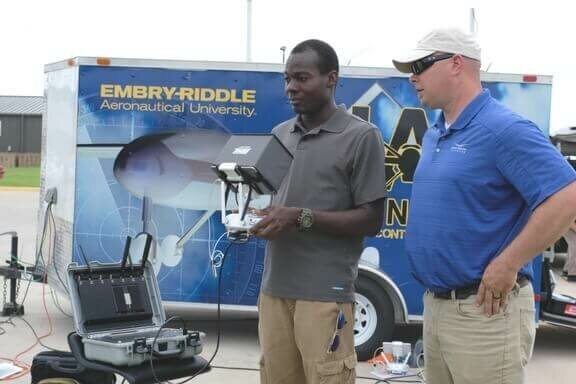 Unmanned aircraft system (UAS) students from Embry-Riddle Aeronautical University (ERAU) are deploying thermal cameras and Rapid Imaging Software's SmartCam3D View as part of a program in Oklahoma this month.
During the study, students will learn operational and coordination requirements associated with UAS in support of disaster-relief operations. The program is being conducted in partnership with the Oklahoma Department of Emergency Management.
Embry-Riddle students will be equipped with Rapid Imaging Software's augmented reality (AR) app, SmartCam3D View. The app shows map data, such as street names and points of interest, as overlays on video.
According to the company, this information assists the UAS pilot with safe flight operations and enhances disaster relief operations, such as the following:
Searching for missing persons or survivors;
Determining the extent of damage to homes or infrastructure;
Directing emergency response teams to safe routes to affected areas;
Finding damaged infrastructure, storm drains or fire hydrants; and
Avoiding flight hazards, power lines and towers.
"Students will operate under the FAA's Part 107 sUAS rule using thermal imaging cameras, loaned from Rocky Mountain Unmanned Systems, to effectively operate at night in search-and-rescue operations under a Certificate of Waiver," explains Dr. Joseph Cerreta, assistant professor of aeronautical science at ERAU. "Thermal cameras with Rapid Imaging Software's augmented reality can make night operations safer and more effective for first responders."