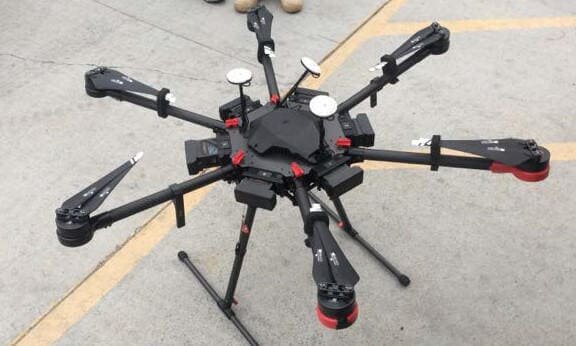 The Department of Homeland Security's U.S. Customs and Border Protection says it recently arrested a man for using a consumer unmanned aerial vehicle (UAV) to transport several pounds of methamphetamine across the Mexican border.
On Aug. 8 at about 11:25 p.m., a border patrol agent observed a drone flying over the border fence at an area approximately two miles west of the San Ysidro Port of Entry in San Diego. The agent notified other agents in the area to be on the lookout for the aircraft.
An agent on an all-terrain vehicle spotted a male suspect at about 11:40 p.m. near the border at Servano Ave. and Valentino St. The agent then approached the man and discovered that he was carrying a large, open bag that had multiple, plastic-wrapped packages containing meth. After the agent arrested the 25-year-old man, a search of the immediate area was conducted, leading to the discovery of a drone that was concealed under a bush.
The agency says the UAV (a DJI Matrice 600) was suspected of hauling 12 packages of meth weighing 13.44 pounds (with an estimated street value of $46,000).
"Due to the agents' heightened vigilance, this drone smuggling scheme was stopped before these dangerous narcotics could enter our communities," says Boone Smith, acting assistant chief patrol agent.