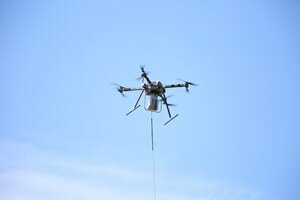 Drone Aviation Holding Corp. (DAC), a manufacturer of tethered drones and lighter-than-air aerostats, says its WATT-200 tethered drone has been approved by the Federal Aviation Administration (FAA) for commercial operations by a major news organization.
DAC says the WATT-200 is engineered and manufactured to operate safely and securely in urban environments to provide live, broadcast-quality aerial video. The high-strength, armored tether connects the unmanned aerial vehicle (UAV) to a ground power source for long flight durations and acts as a leash for additional safety.
The company adds that the WATT-200 delivers military-grade, highly stabilized HD video even in adverse weather conditions. DAC says design of the hardware and software is based on its years of experience in delivering tethered aerostat systems to various U.S. government and Army customers.
Besides newsgathering, the WATT series of systems is intended for a range of applications, including emergency first response, search and rescue, and military and border protection.
"We are extremely pleased with the FAA ruling, which paves the way for news organizations to utilize WATT to capture compelling video scenes, securely streamed down our armored tether directly to audiences around the world," comments Jay Nussbaum, chairman of DAC.