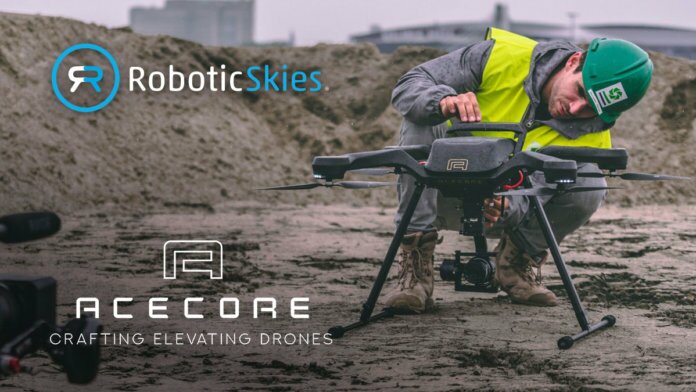 Acecore Technologies, a designer and manufacturer of professional-grade unmanned aircraft vehicles, has partnered with Robotic Skies Inc., a global maintenance network for commercial unmanned aircraft systems, to provide customers with full-service maintenance and field repair support for Acecore's Neo and Zoe platforms.
The certified repair stations that comprise the Robotic Skies network employ the quality, standards and practices of manned aviation maintenance in the unmanned aviation market. Robotic Skies services include routine and field maintenance, inspections, upgrades, and aircraft on ground support.
"Ever since we sold the first Neo in 2013, we have believed that durability is key in our solutions. If you're buying a second Acecore drone, it's because your operation is scaling. Not because the previous one has failed you," says Jorrit Linders, president and technical engineer at Acecore. "Our partnership with Robotic Skies expands our ability to provide customers with professional services that ensure the continued dependability, safety and long service life of their Neo or Zoe system."
"Robotic Skies is pleased to partner with Acecore to provide additional infrastructure and services that will enhance the company's customer support program," says Brad Hayden, founder and CEO of Robotic Skies. "As commercial UAS operations gain complexity, regulatory bodies will require manufacturers and operators to demonstrate compliance with existing aviation maintenance safety standards. Robotic Skies provides this assurance for Acecore and its customers."
The Neo and Zoe UAVs meet the demands of challenging weather conditions and operating with heavy payloads. Acecore's radio link uses AES 128 encryption for added security, and both aircraft are FAA ADS-B mandate compliant. Critical components can be equipped with triple redundancy to ensure a successful and reliable return to home function.
As part of the Acecore Technologies customer success program, customers who fly the Neo and Zoe UAS will have access to preventive maintenance and repair services no matter where in the world they operate via the global Robotic Skies Service Center network.