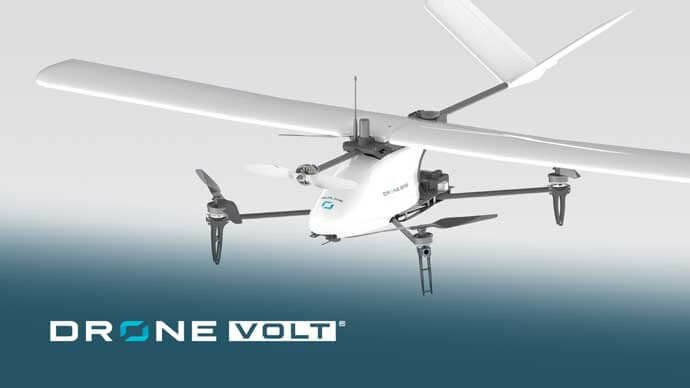 France-based drone manufacturer Drone Volt is expanding its commercial business opportunities in the U.S. by forming new partnerships with U.S.-based companies Robotic Skies Inc. and Metatron Unmanned Solutions.
The partnerships combine Drone Volt's professional-grade drone technology with Robotic Skies' maintenance, manufacturing and regulatory expertise and Metratron's sales, training and services capabilities.
"At Drone Volt, we aim to provide complete solutions for customers who operate our UAS in the professional industries, including certified pilot services, pilot training, and drone repair and maintenance," states Olivier Gualdoni, chairman and CEO of Drone Volt. "The partnerships with Robotic Skies and with Metatron allow us to provide fully integrated support for our U.S. customers as they adopt unmanned aerial vehicle technology into their businesses."
Metatron Unmanned Solutions will serve as Drone Volt's U.S. distribution and training services partner. Metatron will soon take delivery of four Hercules 2 mini drones, a platform designed and built for reconnaissance missions across a range of applications in the defense, construction, inspection and security sectors. Customers who purchase the Hercules 2 will have the opportunity to enroll in "Drone Volt Flight Academy," a two-week course that covers systems training, data collection and analysis, and more.
"The team at Metatron is thrilled to partner with Drone Volt on creating a superior customer experience," says Travis Snyder, Metatron chief pilot and certified instructor. "We believe that proper education and training on how to operate drone systems is key to the overall safety and success of the unmanned industry. This partnership allows us to deliver on our mission to help companies succeed in this growing industry, creating more jobs and more efficiency across the board."
Robotic Skies will serve as Drone Volt's global maintenance partner.
Robotic Skies' founder and CEO, Brad Hayden, says, "The vision of the unmanned industry we share with our partner Drone Volt is one that brings together high-performance mission capabilities and an aviation safety culture mindset. The emerging commercial UAS fleet will need ongoing inspections, repair and maintenance to assure reliability and safety. Our turnkey support offerings are a natural complement to keeping the Drone Volt fleet operating as safely and efficiently as possible."