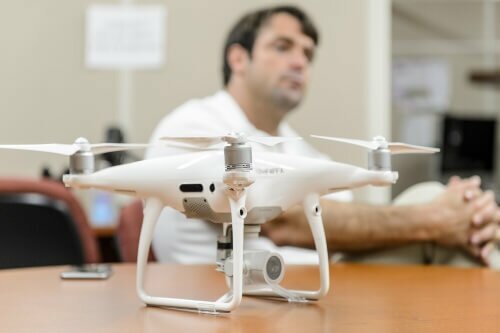 The University of Wisconsin-Madison's College of Engineering has rolled out a new introductory drone class.
The course, "Introduction to Unmanned Aircraft Systems," was created by instructor Chris Johnson, who received a $40,710 grant for the course after he pitched it to the UW College of Engineering Education Innovation Committee in the spring.
According to the university, the class is the first of its kind at UW-Madison. Eight students have been taking it as a summer course since May 30.
The first half of the course comprises safe drone flights and regulations, followed by a Federal Aviation Administration-sanctioned midterm exam, which will actually authorize the students to commercially fly drones. The second half of the course delves into the "business and engineering applications of the technology and uses of the data," says UW-Madison. Specifically, students will use their drone-collected data to provide an end product for a company. According to Johnson, there are already 12 companies interested in working with the students on the project.
"Most people are completely enthralled by the technology," said Johnson, via a news release from UW-Madison. "It's really refreshing to see because there is a lot of value that can come from it."