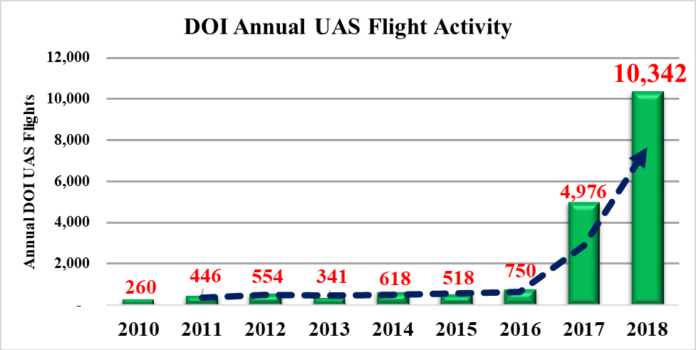 In fiscal year 2018, the U.S. Department of the Interior (DOI) increased its unmanned aircraft systems (UAS) usage by 108% year-over-year.
In total, the federal agency conducted 10,342 UAS flights across more than 25 types of missions in 42 states and U.S. territories during the year. This is up from 4,976 flights in 2017, which saw a big jump from 750 in 2016.
"Since the initiation of DOI's current UAS program in 2006, the department has realized significant benefits from the safe and responsible integration of drone technology," the agency says in its new UAS operations report for 2018. The DOI is responsible for managing a total of 500 million acres of land and 1.7 billion acres on the Outer Continental Shelf.
The DOI also expanded its UAS operations to eight new states/territories in 2018: Delaware, Hawaii, Maryland, Ohio, Puerto Rico, South Dakota, the U.S. Virgin Islands and Virginia.
The agency categorizes its UAS missions as project flights (planned or one-off missions) or incident support (unforeseen missions). During the year, 72% of the missions were project flights, while the rest were for fires (14%), volcanoes (14%) and hurricanes (1%).
Further, the DOI had 531 drones and 359 active pilots during the year. With 486 units, the 3DR Solo drone comprised the majority of the fleet.
Notably, with a total acquisition cost of $1.9 million, the DOI's fleet of drones cost less than several of the agency's manned aircraft: e.g., the $2 million AS530 helicopter, the $3 million King Air airplane or the $6.3 million Bell 412 helicopter, the report points out.
The report also notes several other 2018 milestones: awarding a first-of-its-kind "call when needed" contract to four UAS companies; adopting vertical takeoff and landing drones; being approved for an additional 12.9 million acres of land for beyond visual line of sight operations; and finding significantly fewer incidents of public drone disruptions at wildland firefighting.
Going forward, the DOI lays out the following goals for its 2019 UAS program:
Expanding wildland firefighting capabilities, including integrating optionally piloted aircraft;
Teaming up with with industry/academic/federal partners to develop "practical, effective and easily deployable technologies" for improving firefighting awareness and safety;
Continuing to develop cloud-based solutions and using artificial intelligence to better analyze drone-collected data;
Enhancing fleet management and reporting capabilities; and
Improving the versatility of the drone fleet.
"In 2019," the report concludes, "Interior will continue its tradition of adherence to rigorous, mission-driven requirements; disciplined program execution; continual improvement; broad collaboration; public transparency, and a forward-leaning vision that has served to solidify the department's leadership in the domestic application of UAS technology."