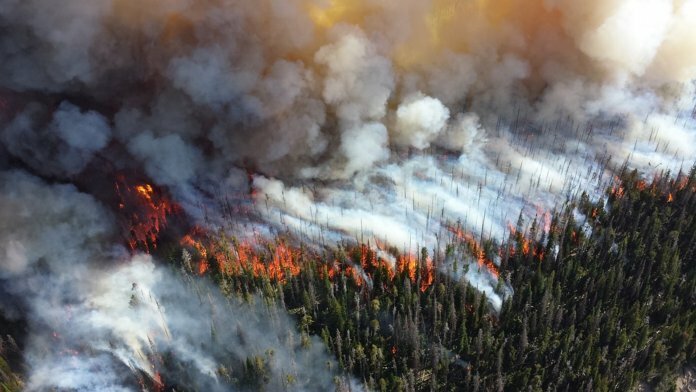 As part of a broader strategy to aggressively combat wildfires, the U.S. Department of the Interior (DOI) has awarded a "call when needed" contract to four U.S. companies for small unmanned aircraft systems (sUAS) services.
The contract – which is the first of its kind for the DOI, according to the agency – will allow the agency to obtain fully contractor-operated/maintained small drones that are ready when needed to support wildland fire operations, search and rescue, emergency management, and other resource missions in the contiguous 48 states and Alaska.
"This contract reinforces our commitment to partnering with industry to provide our employees with the latest technology in carrying out their responsibilities as stewards of our nation's public lands while also ensuring their safety is paramount," says Ryan Zinke, DOI secretary. "This capability is key to implementing our new and aggressive approach to combating the threat of large wildfires that I outlined in my Wildland Fire Directive last September."
The DOI says the award follows a lengthy process to develop mission performance requirements and select a range of experienced commercial providers to meet this need. Companies receiving awards include Bridger Aerospace of Boseman, Mont.; Insitu of Bingen, Wash.; Pathways2Solutions of Nashville, Tenn.; and Precision Integrated of Newberg, Ore.
The contract consists of one base year with four option years, and the total potential contract value is $17 million, according to the agency. The sUAS selected under the contract will be able to operate during the day or night, without a runway, in sustained winds up to 25 knots, and at altitudes consistent with typical western wildfire environments.
"These contracted small unmanned aircraft systems will supplement the manned firefighting fleet by providing the capability to operate during dense smoke/inversion situations which often occur and have heretofore hampered the aggressive prosecution of destructive wildfires," comments Jeff Rupert, director of the DOI's Office of Wildland Fire. "Infrared/thermal camera technology onboard these small unmanned aircraft systems can penetrate smoke and gather/disseminate information to deliver critical situational awareness for incident commanders. These sensors also provide us with the first real opportunity to collect, analyze and archive relevant wildfire suppression and retardant outcome data since aerial suppression began in 1930."
Like their DOI drone fleet counterparts, these aircraft will operate from within the Temporary Flight Restrictions established over most large wildfires. They will also take advantage of the DOI's authority from the Federal Aviation Administration to operate beyond the visual line of sight – a critical capability in the smoky wildfire environment, the agency notes.