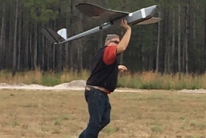 Geospatial services company Surdex Corp. says it has received a Section 333 exemption from the Federal Aviation Administration (FAA) to commercially operate an Altavian Nova F6500 unmanned aircraft system (UAS).
Through the accompanying blanket Certificate of Waiver or Authorization, the company can operate the fixed-wing aircraft under 200 feet in altitude throughout the U.S. for the purpose of aerial data collection.
Surdex owns and operates an Altavian Nova UAS for use in large-scale aerial mapping applications. This capability will enhance the company's geospatial data-production capabilities by providing rapid deployment and timely, cost-effective generation of high-resolution products.
The company notes that it is currently expanding the exemption to include other fixed-wing and rotary aircraft.
Surdex employs around 100 people and operates 10 aircraft out of Spirit of St. Louis airport outside of St. Louis.