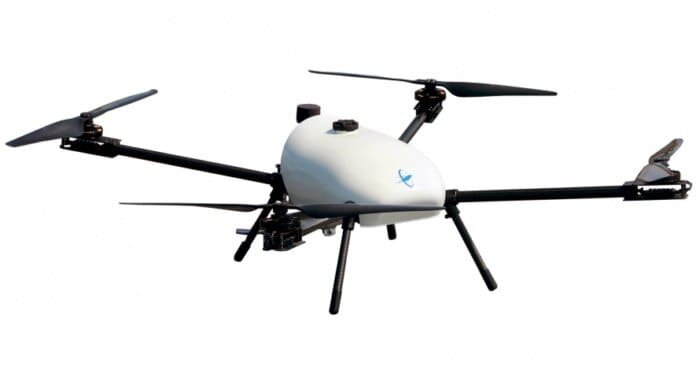 Menlo Park, Calif.-based Skyfront, creator of long-endurance multi-rotor drones for the agriculture, energy and utility industries, is claiming a new endurance world record for a multi-rotor unmanned aerial vehicle (UAV).
According to the company, its Tailwind drone flew for a total of 4 hours and 34 minutes on July 26. The hybrid gasoline-electric quadcopter flew in wind conditions with medium gusts and used a tether in order to comply with the landowner (note: the tether did not transmit power).
"Within a couple of weeks, we expect our UAV to fly for a full five hours, and further out, we expect it to travel for over 100 miles," says Troy Mestler, CEO of Skyfront. "The Tailwind allows businesses to monitor, map and inspect large, remote assets like power lines and large farms. Drone operators can now perform their jobs in a single flight without having to constantly launch, land and swap batteries – significantly reducing operating costs."
The Tailwind UAV is currently available to select companies conducting agriculture, inspection and surveying missions through Skyfront's early-access program. The Tailwind will enter widespread production in the first quarter of next year, the company says.
"Skyfront has conquered some of the biggest challenges preventing widespread drone adoption: endurance and range," comments Danny Ellis, CEO of SkySpecs, a drone inspection company focused on wind turbines. "Skyfront's solution has the ability to change the way we deploy our technology for wind turbine inspections because it would allow us to inspect a dozen or more wind turbines in a single flight instead of changing batteries between each inspection. It also allows us to look at other markets where our precision flight is required for long-range infrastructure inspection. I haven't seen another company with a viable product that has solved these problems for multi-rotors."
The Tailwind's autopilot, onboard computer and communication links are based on open-source software, hardware and protocols – maximizing customizability and compatibility with existing sensors and software created by vertical partners, the company explains.
Skyfront is currently creating two versions of the Tailwind: The first carries a LiDAR sensor, and the second carries a dual visual and infrared camera.