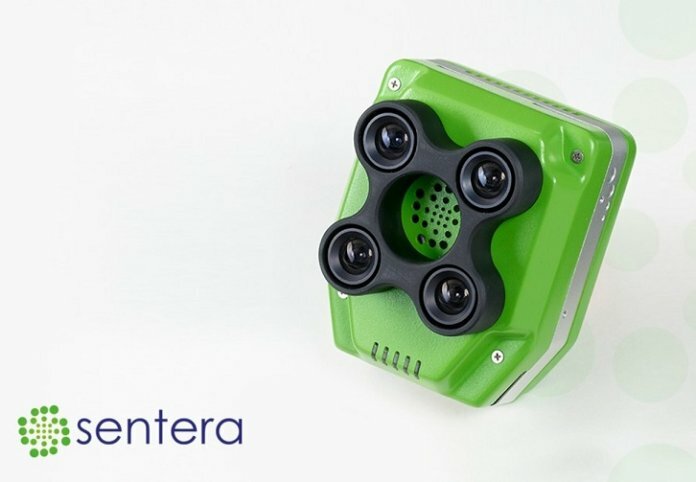 Minneapolis-based Sentera, a supplier of data solutions to the agriculture industry, has announced the latest update to its high-precision sensor product line: the Quad Sensor.
According to the company, the Quad Sensor integrates with multiple commercial drones, including the DJI Inspire 1, DJI Phantom 3 and 3DR Solo multi-rotor aircraft, as well as the Sentera Phoenix fixed-wing platforms.
The multispectral Quad Sensor features four fully customizable imagers. In its standard configuration, the sensor offers standard normalized difference vegetation index (NDVI), green NDVI, normalized difference red edge (NDRE) and high-resolution color data capture – all in a single flight. Simultaneous collection of NDVI and NDRE data streamlines operations and provides users with insights about crop health, Sentera explains.
"The Quad Sensor's innovative technology can add incredible value to several agriculture applications," says Kris Poulson, vice president of agriculture for Sentera. "Individuals on the leading edge of development seek technology that is both tailored to an application and intuitive to use. With our Quad Sensor, customers with unique vegetation indices requirements have a solution."
Sentera notes that the filters in all four of the Quad Sensor imagers are completely customizable; customers can work directly with Sentera or an authorized reseller to configure filter and band requirements.
"We designed the Quad Sensor with the university, researcher, worker and scientist in mind," says Ryan Nelson, chief mechanical engineer for Sentera. "The sensor needed to be customizable and offer users an outstanding opportunity to configure a powerful sensor to their exact specifications. The Quad Sensor allows targeting of specific vegetative indices, something not easily accomplished using other commercially available sensors."
Dr. Ian MacRae, department of entomology professor at the University of Minnesota's College of Food, Agricultural and Natural Resource Sciences, adds, "Sentera has worked with us to develop, manufacture and deploy sensors that have refined our understanding of how insects and disease affect the spectral response of agricultural crops. As our research continues, Sentera has responded, ensuring we get customized sensors that can accurately and reliably collect the data we need."