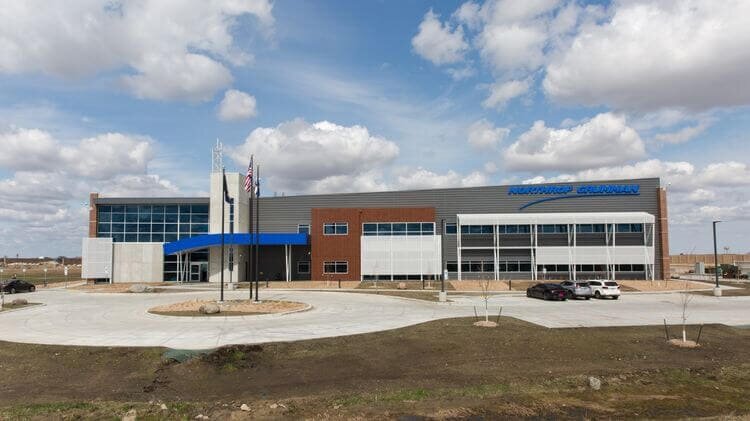 Northrop Grumman Corp. has opened a new facility at the Grand Sky Unmanned Aerial Systems (UAS) Business and Aviation Park, located near Grand Forks, N.D. According to the company, the facility will serve as a nucleus for autonomous systems research and development; pilot, operator and maintainer training; operations and mission analysis; and aircraft maintenance.
At the ribbon-cutting ceremony, representatives for Sens. John Hoeven and Heidi Heitkamp, Congressman Kevin Cramer, and other state and local dignitaries joined United States Air Force personnel, Red River Valley advocates, community leaders and several Northrop Grumman executives.
"Northrop Grumman's new multimillion-dollar facility is an exciting addition to North Dakota's UAS ecosystem," says Hoeven. "Securing this company as the anchor tenant was central to Grand Sky's creation and has opened a world of possibilities for UAS research, development and training in the Red River Valley. Our state's industry continues to advance new technologies and applications for UAS across areas like energy, agriculture and national security. That's why we continue to support expanded operations, including beyond-line-of-sight, to integrate UAS into our national airspace and realize the full benefits of this technology."
"We are delighted to officially begin operations here at Grand Sky, cementing our leadership in the development and use of autonomous systems in partnership with North Dakota's UAS community," adds Janis Pamiljans, corporate vice president and president of Northrop Grumman Aerospace Systems. "The important work performed at Grand Sky will support the evolving needs of our customers while advancing research and development of our autonomous systems capabilities for today and the future."
Northrop Grumman is the park's anchor tenant. The company is also planning construction of a hangar to take advantage of the park's access to the adjacent Grand Forks Air Force Base.
"This facility is the latest example of Northrop Grumman's commitment to the Red River Valley," adds Pamiljans. "We've long been a supporter of UAS and other activities in this region, including our relationships with area colleges and universities and the Northern Plains UAS Test Site."
Northrop Grumman's Grand Sky facility is the second major Northrop Grumman facility in North Dakota. The company also has a manufacturing site that has been in continuous operation for over 45 years.