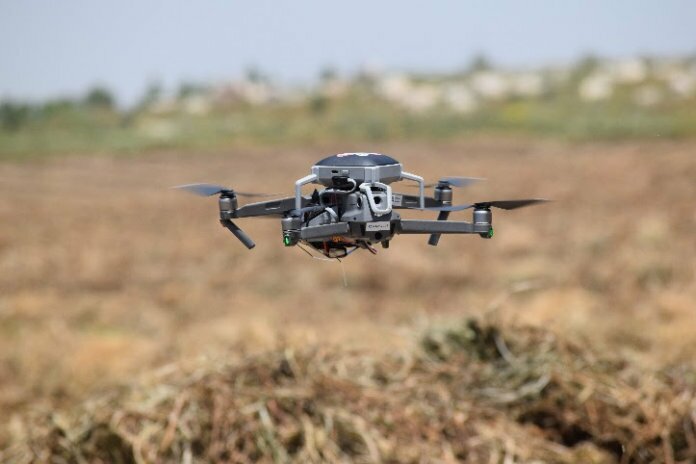 The North Dakota Department of Transportation (NDDOT) has received a four-year waiver from the Federal Aviation Administration (FAA) to routinely operate unmanned aircraft systems (UAS) over people.
Through its Part 107 waiver, the state agency will use a DJI Mavic 2 drone equipped with a ParaZero SafeAir parachute system.
The FAA approved the waiver as part of North Dakota's participation in the federal UAS Integration Pilot Program (IPP). NDDOT and the Northern Plains UAS Test Site (NPUASTS) are working with partners to accomplish North Dakota's program mission to provide operational efficiencies, create new opportunities, build industry to grow the economy, and reduce traffic fatalities and serious injuries.
"The UAS Integration Pilot Program, through a variety of demonstrations, is paying dividends on the investment to safely integrate UAS into the national airspace system," comments Dan Elwell, acting administrator of the FAA. "Through NDDOT's pilot program, we are getting valuable data to create regulations, policy and guidance that ensures safety while enabling innovation."
"NDDOT is excited to work with Northern Plains UAS Test Site and one of our program partners, ParaZero, to advance research focusing on safe operations of unmanned aircraft systems," adds Russ Buchholz, UAS integration program administrator at NDDOT. "We are testing UAS systems and looking at how we can have safe operations that are repeatable and scalable in different types of situations."
North Dakota's participation in the IPP gives state, local and tribal governments a chance to establish innovation zones for testing complex UAS operations.
"The collaboration between the NDDOT and the NPUASTS brings two innovative organizations together that can best serve the State of North Dakota's UAS interests, provide an environment for industry to achieve their goals, and support the FAA with UAS integration initiatives," explains Trevor Woods, director of safety at the NPUASTS.
The NPUASTS provided validation for ParaZero's SafeAir Mavic, a parachute system that monitors UAS flight in real time, identifies critical failures and autonomously triggers a parachute. As the third-party testing agency, the NPUASTS verified over 45 aerial deployment tests in various failure scenarios in accordance with the ASTM Standard Specification for Small Unmanned Aircraft System Parachutes F3322-18. Compliance with this ASTM standard specification is designed to support an applicant in obtaining a waiver from the FAA.
"What's so exciting is that there is now a clear path of getting a waiver for UAS flights over people," notes Nicholas Flom, executive director of the test site. "Now, anyone with a DJI Mavic 2 can order a parachute and submit a waiver to fly over people. That was practically unheard of until now."
The FAA also recently granted a Part 107 waiver to Hensel Phelps Construction Co. to operate a SafeAir-equipped DJI Phantom 4 drone over people.