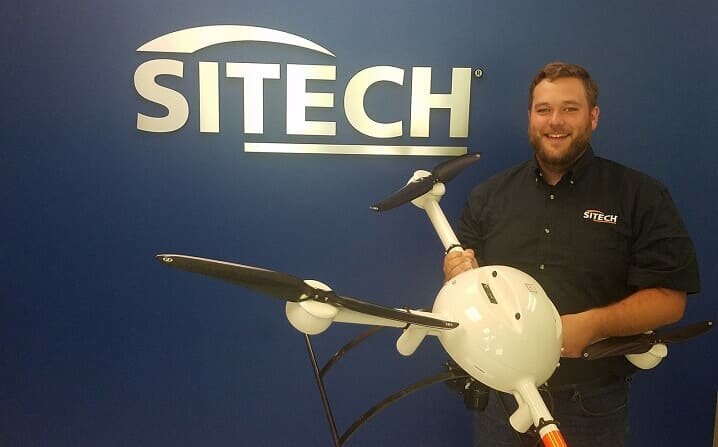 Unmanned aircraft systems (UAS) manufacturer Microdrones is partnering with SITECH South, a provider of construction equipment and services in Georgia, Alabama and Florida. In turn, SITECH South will now offer Microdrones mdMapper drone packages for surveying and mapping, including for volumetric analysis of stockpiles, site overviews and monitoring progress.
The mdMapper packages combine aircraft, sensors and software. Systems available immediately through SITECH South include the mdMapper200, mdMapper1000 and mdMapper1000DG.
"This technology provides real value and will help our customers perform jobs more safely, efficiently and cost-effectively," says Brian Holley, SITECH South's general manager.
"For our construction customers, we feel a quadcopter offers the highest value and most flexibility," notes Matt Rosenbalm, SITECH South's UAS/advanced technology specialist. "You need enough control to be able to stop at the boundaries of the project site so your aircraft doesn't fly over other structures, land and people. Microdrones systems are great for that, and they also have long flight times, excellent stability and great resilience in bad weather – and they're very efficient."
Rosenbalm joined the company in July and is strictly focused on providing unmanned systems products, training and services. Rosenbalm has his Part 107 license and has undergone extensive UAS training through Trimble and Microdrones. SITECH South is a Trimble dealer. Microdrones partnered with Trimble last year to become its preferred provider of quadcopters.
Rosenbalm also recently completed direct-georeferencing training with the Microdrones mdAcademy team. Thus, he is now prepared to teach others to use the mdMapper1000DG.
Earlier this month, Microdrones forged a drone distribution agreement with Navigation Electronics Inc., which sells and services mapping, GIS, surveying, and construction equipment from Trimble and other manufacturers to companies throughout the southeastern U.S. In addition, Martin Instrument, an equipment provider for surveying and construction companies throughout Texas, recently added Microdrones' mdMapper UAS to its offerings.