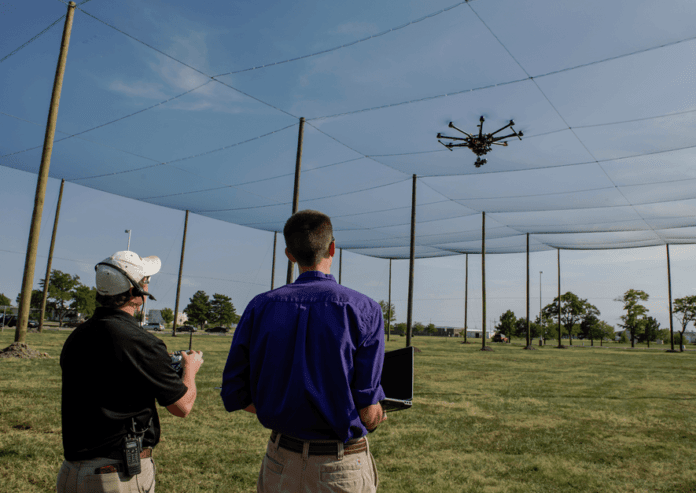 The Kansas State University Polytechnic Campus is expanding its unmanned aircraft systems (UAS) capabilities to now include flight operations after dark.
Kansas State Polytechnic's Applied Aviation Research Center, which houses a UAS research program, received approval from the Federal Aviation Administration (FAA) to conduct drone flights at night. The waiver will be used as part of the research program, as well as for commercial flight training courses and forthcoming curriculum in the UAS degree program.
"Initially, the waiver request was motivated by an ongoing research project with Westar Energy," says Kurt Carraway, UAS executive director of the Applied Aviation Research Center, "but its benefits will have an impact on a multitude of contributions this campus makes to the unmanned industry."
The Applied Aviation Research Center offers several different UAS short courses and is introducing night operations into its commercial remote pilot training course starting June 23. The course addition includes two hours of classroom instruction covering flight basics at night, necessary waivers and exemptions for night flight, and how to set up a night operation. Following the classroom instruction, students will receive one hour of hands-on night flight training using a S-1000 multi-rotor aircraft out in the field.
In undergraduate academics, Kansas State Polytechnic offers two UAS degree options and one minor. Faculty members are currently creating new training methods that would add night operations into one of the labs for the advanced multi-rotor course, giving students experience with mission planning, flight cues and recovery methods after dark, the university says.
"A key element of the way we train our students is exposing them to different scenarios that they might encounter in industry as they leave school, so the more situations you can introduce them to, the better off they are going to be," comments David Burchfield, UAS teaching assistant professor and degree option coordinator at Kansas State Polytechnic. "There are an increasing number of night applications for UAS, such as search and rescue, aerial photography and ag mapping, and as time goes on, students are more likely to be working in those conditions. It is just another tool in their tool box to take with them to industry."
The university intends to integrate its night flight training exercises into the UAS degree option starting this fall.