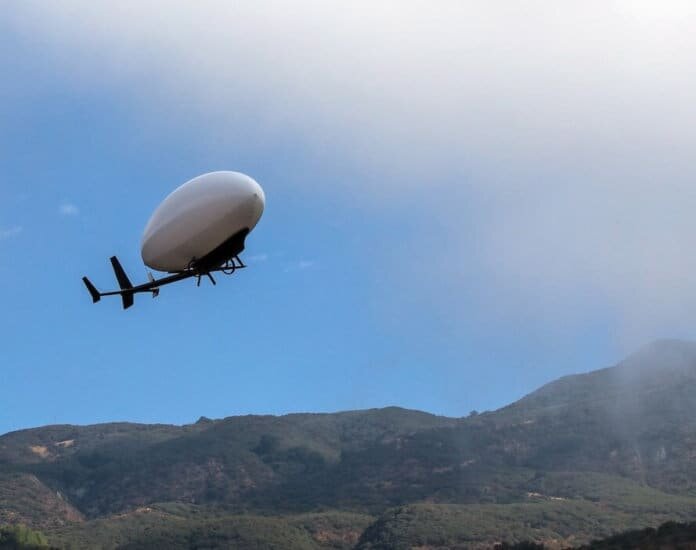 Egan Airships has introduced PLIMP, a "plummet-proof," plane-blimp hybrid unmanned aircraft system (UAS) suited for a range of applications.
The Seattle-based start-up, founded by twin brothers James and Joel Egan, says the drone can maneuver and move quickly like a fixed-wing aircraft, hover and vertically take off and land like a helicopter, and operate efficiently and safely like a blimp – all on a single platform. Furthermore, PLIMP can deliver forward speeds of more than 40 mph and at least an hour of flight time.
According to Egan Airships, PLIMP has a patented streamlined envelope design, rotational wings and an extended tail to corral the wake. It offers an unpowered descent speed of only 9.5 mph should engines fail, as well as smooth flight and acceleration for nearly stable platform filming.
PLIMP also takes advantage of partial lift by helium – which is not flammable – and partial lift by its rotational wings. Due to its buoyancy, PLIMP aircraft are more efficient than helicopters and fixed-wing aircraft for surveillance and inspection operations, the company claims.
With a length of 28 feet (still under 55 lbs.), PLIMP can be operated remotely by a pilot and flight technician and does not require a runway or launch/recovery system to operate. It can also carry payloads required for a specific mission, such as agriculture, surveying/mapping, border control, mining, cinematography, search and rescue, cloud seeding, or communications relay support for disaster areas.
Because it is under 55 lbs., the UAS will be regulated by the Federal Aviation Administration under Part 107, the company notes. Egan Airships expects the aircraft to be commercially available by the first quarter of next year.