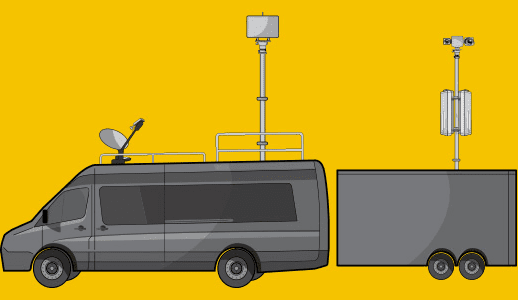 Gov. Andrew M. Cuomo, D-N.Y., has announced central New York-based Gryphon Sensors' development of a mobile unmanned traffic management (UTM) system called Mobile Skylight.
Featuring an array of self-contained multispectral sensors, the system provides accurate, 3D detection of low-flying, small drones at a distance of out to 10 kilometers. Contained in a van not requiring a commercial driver's license to operate, Mobile Skylight is a complete mobile command center featuring 4×4 off-road capability. The solution is designed for rapid deployment for a number of applications, including event security, first response, and infrastructure and utility inspections.
According to a release from the governor's office, the development builds on the state's investments in the region's emerging unmanned aircraft systems (UAS) industry. Last August, Cuomo announced a $5 million commitment through the Upstate Revitalization Initiative to support the UAS industry in central New York. At a UTM convention in Syracuse last November, the governor also announced a $30 million investment being used to develop a 50-mile flight traffic management system between Syracuse and Griffiss International Airport in Rome.
"By investing in the state-of-the-art technologies of tomorrow, we ensure that New York remains at the forefront of innovation and high-tech industry across the country," says Cuomo in the release.
"We are excited to introduce Mobile Skylight, the nation's first operational mobile UAS traffic management and drone security system," adds Anthony Albanese, president of Gryphon Sensors. "The system provides unmatched versatility and air surveillance capability enabling beyond visual line of sight commercial and security UAS operations in the state's unique UAS flight corridor."
According to the governor, the state's $35 million investment is already growing the UAS industry through the strategies outlined in the Central NY Rising plan. Supporting this effort is the strong regional presence of aerospace firms such as Saab, Lockheed Martin and SRC and regional assets such as the NUAIR Alliance, which manages New York's Federal Aviation Administration test site.
Educational institutions such as Syracuse University and Mohawk Valley Community College have also aligned training curriculum and research efforts around the drone sector. New York State is also sponsoring round two of GENIUS NY, a business accelerator programs for UAS start-ups.
"The Mobile Skylight system is another major step in the development of a corridor between Griffiss International Airport and Syracuse that is cementing the Mohawk Valley and central New York as a regional hub for UAS innovation and manufacturing," comments Anthony Picente Jr., Oneida County executive. "I want to thank Governor Cuomo for this investment, which further solidifies our Griffiss UAS test site as a unique national asset that sets our area apart."
Larry Brinker, interim president and CEO of the NUAIR Alliance, adds, "We are proud to be part of the comprehensive strategy to strengthen central New York and the Mohawk Valley's global leadership position in the unmanned systems sector and partner on advancing the systems and technologies that are critical to integrating UAS into the nation's commercial airspace."