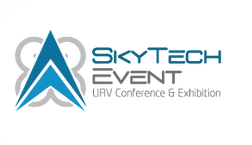 SkyTech 2016, a two-day tradeshow dedicated to advancing the global commercial unmanned aerial vehicle (UAV) industry, is coming to London early next year.
The event, now in its second year, aims to serve as a platform to encourage growth, further education and advance safety within the emerging market.
SkyTech 2016, which will be held at the Business Design Centre on Jan. 27-28, will provide information, connections and marketing solutions through an exhibition, conferences, workshops, product launches, live demonstrations and networking events.
SkyTech is also a media platform and press day for the UAV industry and will bring together manufacturers, suppliers, service providers, government, academia, investors, trade associations and regulatory bodies.
The exhibition is free to attend and will feature the latest in technology and services from across the global unmanned aviation industry. Workshops are also free to attend. SkyTech will also feature a main conference, a conference dedicated to the UAV survey industry, and a conference dedicated to the myriad applications for UAVs.
Charles Maxwell Ltd. is organizing SkyTech 2016 in collaboration with SUAS Global, Rheinmetall's Unmanned Systems Training Academy, and Flightpath Consulting.
More information on the event can be found here.