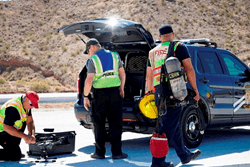 Drone demonstrations for first responders will take place in conjunction with Commercial UAV Expo on Oct. 25 at the Henderson Unmanned Vehicle Range (HUVR).
The HUVR is managed by the Nevada Institute of Autonomous Systems and the Federal Aviation Administration-designated unmanned aircraft systems (UAS) test site in Nevada. Local and national public safety experts will demonstrate drones for a variety of scenarios.
The training is sponsored by Yuneec and Aeryon Labs, whose technology will be used in the demonstrations. Las Vegas Fire & Rescue, Metropolitan Las Vegas Police, the Nevada Highway Patrol, Nevada State College, the Colorado Division of Fire Prevention and Sundance Media Group will lead the training. The demonstrations are expected to draw 300 public safety officers from throughout the country, including state and local police officers and fire and rescue professionals.
Demonstrations include live-stream monitoring of an accident reconstruction, a search and rescue scenario, a high-risk traffic stop, and a suspect pursuit. Attendees will be walked through simulated procedures and best practices detailing select UAS solutions and data management systems.
The demonstration is available to registered attendees of Commercial UAV Expo and costs $50.00. Registration is available here.