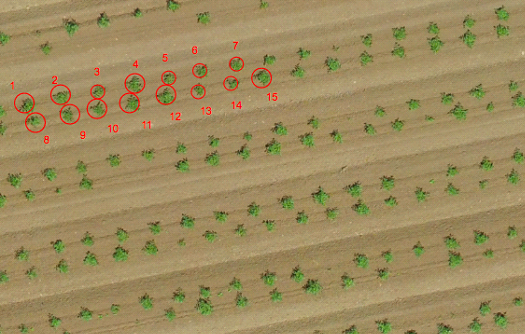 DroneDeploy, a San Francisco-based provider of a cloud software platform for commercial drones, has announced two new tools to help growers get more powerful insights about plant count and crop emergence.
The tool from Aglytix – an agriculture-focused, analytics-on-demand company based in Mankato, Minn. – allows customers to get an accurate classification of an entire field. The tool takes the DroneDeploy map of emerging corn or soybeans and creates a shapefile and report that details the field's crop emergence.
The analysis also calculates the economic loss on the field and offers preventative or corrective actions to mitigate seed-emergence issues.
In addition, the tool from Serbia-based agriculture technology company AgriSens combines aerial imagery with computer vision to help growers count individual plants. The Aglytix tool focuses on commodity crops such as corn and soy, but the AgriSens tool is suited for season row crops (e.g., tomato, sunflower and potato) in early growing stages and in perennial plantations throughout the year.
The AgriSens tool leverages the DroneDeploy map to provide information and insights into the quality of sowing and plant growth for the seasonal crops and can be used to help manage and keep track of plant count in perennial plantations. It also counts individual plants on the mapped area and outputs a report with the plant count and other seeding details.
Booth tools are available to all DroneDeploy paid customers and can be accessed directly from the DroneDeploy dashboard.