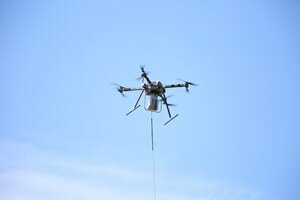 Jacksonville, Fla.-based Drone Aviation Holding Corp. has been awarded a patent (U.S. Patent 9,446,858) by the U.S. Patent and Trademark Office for its electric tethered aerial platform (ETAP) technologies, which are currently used on the company's WATT and BOLT tethered drone products.
The new patent, entitled "Apparatus and methods for tethered aerial platform and system," covers the core systems incorporated into the WATT and BOLT products. In addition to the new ETAP patent, the company's portfolio also includes an exclusive commercial license to a number of unmanned vehicle technologies developed by Georgia Tech Research Corp.
"As drone adoption accelerates, it is vital that we protect the key enabling technologies and innovations that are at the heart of our tethered solutions and provide for their safe and reliable operation," says Jay Nussbaum, chairman and CEO of Drone Aviation Corp.
The WATT ETAP is the company's turnkey electric tethered drone, designed to provide secure and reliable aerial monitoring for extended durations. WATT uses a high-strength, Kevlar-armored tether connected to the ground – providing unjammable command and control, uninterruptible power, and secure collection and distribution of sensor data. The drone can deliver coverage at altitudes up to 400 feet for up to eight hours.
The WATT ETAP is suited for a number of government, newsgathering, industrial and emergency response applications where manned aircraft and even free-flying drones are unable to deliver a long flight duration and commercial-grade, real-time day or night video monitoring capabilities.