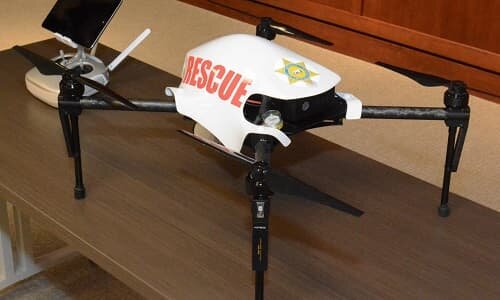 Despite a vote from the Los Angeles County's Sheriff Civilian Oversight Commission to ground the technology, the Los Angeles County Sheriff's Department (LASD) will continue to move forward with its drone program, Sheriff Jim McDonnell has announced.
"I respect the Civilian Oversight Commission (COC) and the important role they have in representing the diverse communities of LA County," McDonnell said in a statement posted on Facebook. "The public input we at the Los Angeles County Sheriff's Department have received from our communities has been overwhelmingly supportive of the unmanned aircraft system (UAS) program under the strict guidelines that we have established.
"As Sheriff, I have the responsibility to ensure the safety of more than ten million residents. This responsibility includes using whatever tools necessary and available that can save the life of a human being," he wrote.
According to a report from the Los Angeles Times, the COC voted 5-4 last Thursday to call on the LASD to stop using its drone. However, although the group can give "formal advice," it cannot "subpoena documents or force the sheriff to act," the report says.
McDonnell continued, "I agreed to adopt the recommendations put forth previously by the ad hoc committee of the COC that would provide transparency and continuous review by the COC of our UAS program. In short, we are largely in agreement.
"However, the UAS program is too important as a public safety tool to ground. I will not face the loved ones of a victim whose life could have been saved by our ability to deploy the UAS. I cannot imagine meeting with the spouse or parent of a fallen deputy and say, yes, we could have done more."
He says the department has deployed the drone five times since the program was launched nine months ago – three for search and rescue and two for active shooter situations.
"In each of these situations, the UAS was deployed only in circumstances that met the strict criteria of our department policy and FAA regulations," he added, noting that the aircraft is unarmed and "will remain unarmed."
Recently, at the request of the COC, the LASD released the results of an online survey regarding the use of its UAS: It found that 89% of respondents supported the use of the department's drone for emergency or life-threatening situations, despite ongoing public concerns over the use of the aircraft. However, according to a report from the COC, which cited "mission creep" and weaponized drone concerns, the commission has received public input describing "genuine and serious concern about the potential abuse of UAS by law enforcement."