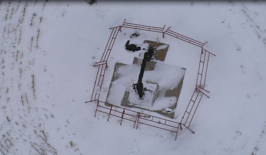 Using aircraft from Lockheed Martin CDL Systems, Canadian UAVs Inc. recently completed what it calls the first Transport Canada-approved pipeline and power line inspections using unmanned aerial vehicles (UAVs) operated beyond the visual line of sight (BVLOS) of the pilot.
At a UAV testing facility in Foremost, Alberta, Canadian UAVs successfully performed multiple BVLOS operations to inspect several pipelines, wellheads and power lines.
"It's a milestone our team has been working towards for years," comments Sean Greenwood, president of Canadian UAVs. "Going BVLOS has technically been solved for some time with regards to powerful communications links and autopilot hardware. Canadian UAVs has been focused on creating an end-to-end paradigm in coordination with Transport Canada to conduct these operations outside of restricted military airspace, where our customers have a substantial regulatory and logistical needs to acquire actionable data."
Canadian UAVs is a Mountain View Helicopters division headquartered in

Calgary, Alberta. The company went with Lockheed Martin's Indago 2 drone for this particular operation.
"We are pleased that Canadian UAVs has selected our Indago 2 aircraft system with mobile ground control station as a solution for their commercial enterprise," says John Molberg, business development lead for Lockheed Martin CDL Systems. "Our systems routinely fly beyond line of sight for our military customers, and that has allowed us to gain compliance status with Transport Canada for use in commercial airspace."