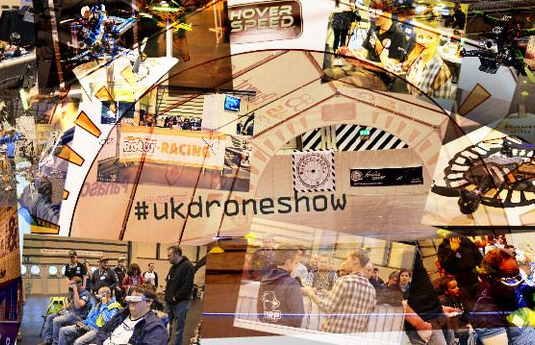 At the inaugural UK Drone Show 2015, 6,500 visitors attended the two-day event, held at the National Exhibition Centre (NEC) in Birmingham, England, on Dec. 5-6.
According to the show organizers, these numbers show the massive appetite in the U.K. not only for drones and related technology, but also the interest in responsible drone flying and flight safety. The event features exhibitors, product demonstrations and guest speakers, as well as focuses on the safe use of drones, Civil Aviation Authority (CAA) regulations and drone industry careers.
Richard Taylor, corporate communications for the CAA, notes that it was "certainly good to have all the main players under one roof."
Other features included a netted flight zone, used for live FPV drone racing and for product demonstrations, and the inflatable speaker-zone dome, which hosted a range of presentations.
For 2016, the UK Drone Show has announced a partnership with the Farnborough International Airshow. On July 16-17, a UK Drone Show summer event will take place at Farnborough, which expects to attract over 80,000 visitors over the weekend.
The main UK Drone Show 2016 will be back at the NEC in December 2016 with additional floor space incorporating two flight-zone areas, as well as additional stand space for exhibitors.
UK Drone Show organizer Oliver O'Brien says, "We'd like to thank all the exhibitors and the thousands of visitors who made the first-ever UK Drone Show such an amazing success. The feedback received has been incredibly positive, but we're not complacent, and we've listened to visitors who want even more to see and do at the next show."