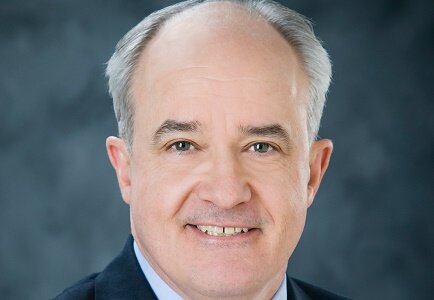 After successfully leading the multiyear effort to land the designation for the Federal Aviation Administration's (FAA) Center of Excellence (COE) for unmanned aircraft systems (UAS), USAF Maj. Gen. (Ret.) James Poss is departing from Mississippi State University (MSU) on July 1.
Poss, the director of the MSU-led Alliance for System Safety of UAS through Research Excellence (ASSURE), was instrumental in bringing the center to the land-grant institution, according to MSU.
Marty W. Rogers of the University of Alaska-Fairbanks has been serving as the deputy director of ASSURE and will assume responsibilities of interim executive director on July 1.
"I can't say enough about the work Jim Poss has done for this university and for the state of Mississippi's efforts to grow the aerospace industry," says David Shaw, vice president for research and economic development at MSU.
"Our state is now the nation's hub for research that will help the FAA integrate unmanned aircraft into the domestic airspace safely and efficiently, and Gen. Poss played a pivotal role in that success – skillfully working with researchers, agency administrators, elected officials and companies. Quite simply, we couldn't have won the Center of Excellence without General Poss. We wish him the best in all of his future endeavors as he transitions to the private sector," he continues.
"After retiring from the Air Force, I wanted to come home and do something good for Mississippi," Poss says. "I think we achieved this goal. It will bring in millions of dollars in federal and corporate funding. Now that ASSURE is up and running well, it's time to turn it over to MSU – allowing me to achieve another goal of opening my own consulting firm, advising this new unmanned industry and, hopefully, bringing UAS business to Mississippi."
The new firm – ISR Ideas – will provide intelligence consulting services to the aerospace industry and advice to the UAS industry.