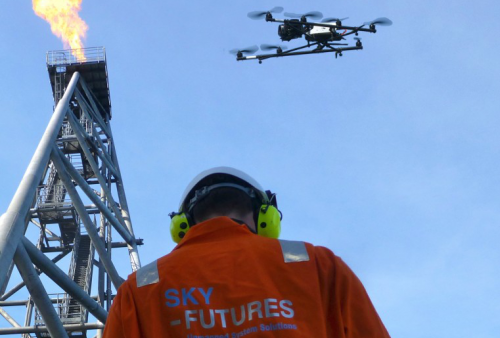 NATS, a U.K. air traffic control provider, and Sky-Futures, a global provider of drone-based inspection services and training, have announced a new drone training partnership.
The initiative will bring NATS' airspace and aviation expertise together with Sky-Futures' technical drone-flying skills to deliver training to the U.K.'s commercial drone sector and emergency services personnel.
The NATS/Sky-Futures partnership will deliver tailored, scenario-based drone training. In addition to online theory training about aviation law and responsible flying, students will receive training on how to safely operate a drone in scenarios that closely match their own working environment.
Customers will be trained at the Sky-Futures Training Academy (SFTA) near Oxford, as well as at NATS operational centers in Swanwick and Prestwick. Facilities at the SFTA include a ship, a railway line, a motorway, an oil rig, metal towers and commercial buildings. A customer who inspects transmission towers, for example, will be trained how to prepare for this type of operation and how to use a drone as an inspection tool.
"This is an exciting development that takes us closer to safely realizing the potential of this emerging industry in the U.K.," comments James Cranswick, NATS' drones business manager. "We recognize drones have huge potential to deliver benefits across society and to our economy, and by partnering with Sky-Futures, we can offer commercial drone operators the all-round training necessary for the drone industry to flourish safely alongside the traditional aviation industry."