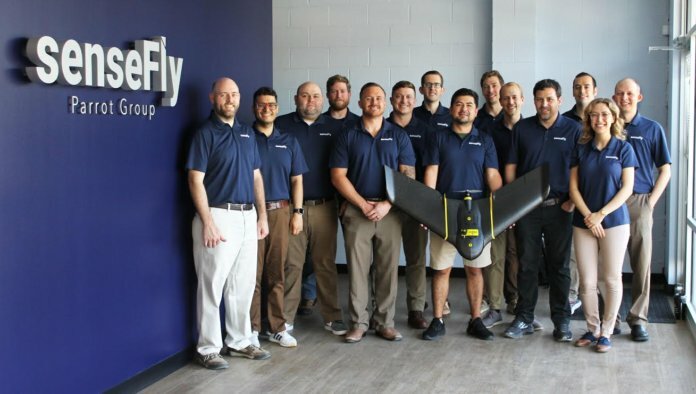 Switzerland-based senseFly, a provider of professional mapping drones and a commercial drone subsidiary of Parrot Group, has relocated its North American operations from Washington, D.C., to Raleigh, N.C.
The new Raleigh office will host the company's North American shipping and logistics, customer service, and sales and marketing. The new location also allows senseFly to join the Research Triangle, a region in North Carolina that boasts three research universities: North Carolina State University, Duke University and the University of North Carolina at Chapel Hill. The move positions senseFly alongside these institutions, creating more resources for the unmanned aircraft system (UAS) industry to thrive within the state, the company says.
"Not only is Raleigh one of the fastest-growing cities in the United States, but it also has one of the strongest technology scenes, making it a natural fit for our dynamic team," notes Gilles Labossière, CEO of senseFly.
"We are thrilled to have senseFly join the triangle's network of innovative businesses," says Michael Haley, executive director of Wake County Economic Development. "This announcement represents another company moving to our region to access our incredible talent pipeline, diverse business ecosystem and exceptional quality of life."
senseFly says it has begun integrating itself into the community through its partnership with the NextGen Air Transportation Consortium (NGAT), a group at North Carolina State University that supports more than 20 members (industry, government agencies and academia) with UAS implementation strategies, integration timelines, and navigation of the regulatory and approval processes at federal and state levels.
"The NGAT consortium is nationally recognized for its development and integration of aviation technology," Labossière adds. "A specialized focus on UAS was critical for senseFly when determining which organization to partner with."
"We are excited to see senseFly move into the neighborhood and join the NGAT Consortium," says Kyle Snyder, director of NGAT. "senseFly has a proven history of success in drone product development and is also an industry partner on the FAA's UAS Center of Excellence team, ASSURE, which we are a core member of with 20 other schools. We are looking forward to them being a major part of the state's drone ecosystem."