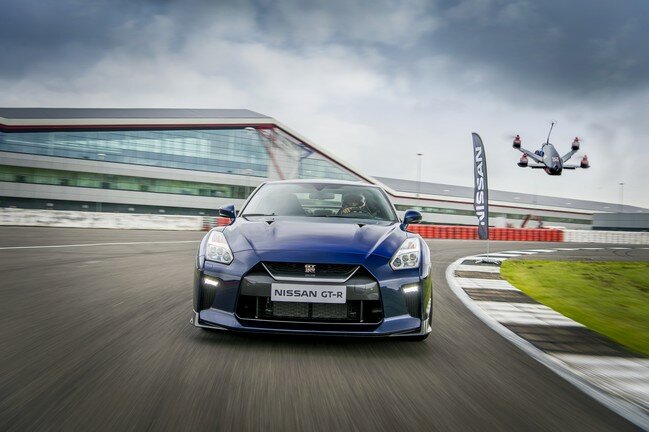 Nissan has unveiled the GT-R Drone, what the automaker is calling one of the fastest-accelerating first-person-view (FPV) racing drones in the world.
Built to be able to keep up with the new 2017 Nissan GT-R, the drone features performance-enhancing technology like its automotive equivalent, says Nissan. In fact, the drone, custom-designed by Tornado XBlades Racing, can reach 100 kph (approximately 62 mph) from a standstill in just 1.3 seconds.
The GT-R car transfers power from its twin-turbocharged, 3.8-liter, 24-valve V6 to all four wheels; in comparison, the GT-R Drone delivers acceleration via four propellers mated with 2000 kV XNova motors and a Sky-Hero quadcopter frame.

In a race, Nissan NISMO driver Ricardo Sanchez took the wheel of the new GT-R with James Bowles, the 2015 British National Drone Racing champion, who piloted the GT-R Drone around a purpose-built, 1.2-mile course at the Silverstone Circuit in England.
Nissan says the drone can out-accelerate the car; however, the GT-R Drone has a top speed of approximately 185 kph (approximately 115 mph), versus 315 kph (approximately 196 mph) for the car. In addition, according to the automaker, the GT-R car cannot match the agility of the drone, which has a turning circle of 0.3 meters.