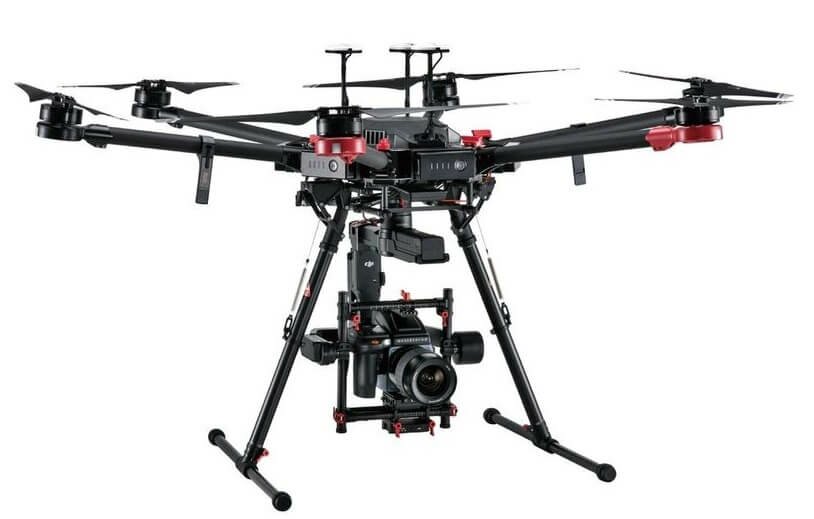 DJI has teamed up with Hasselblad, a provider of medium-format cameras, to roll out what they say is the world's first 100-megapixel integrated drone imaging platform.
The new product combines the DJI M600 Pro drone, the Ronin-MX gimbal and the Hasselblad H6D-100c camera.
The flight platform, the M600 Pro, is an adaptable, six-rotor flight platform equipped with the Lightbridge 2 transmission system, a dustproof propulsion system and six intelligent flight batteries. The M600 Pro can be guided by the D-RTK GNSS navigation system, which can withstand strong magnetic interference to provide precise, centimeter-level 3D positioning, says DJI, adding that this enhanced accuracy over typical barometer, compass and GPS systems makes it ideal for exacting commercial, industrial and scientific applications.
The Hasselblad H6D-100c camera comes with a large, 53.4 mm x 40.0 mm sensor that mounts on the drone through the Ronin-MX three-axis, stabilized gimbal, which uses powerful motors and inertial measurement units to resist high G-forces, maintain stability and hold the horizon, says DJI.
The M600/Ronin-MX/H6D-100c platform is the latest product collaboration since DJI assumed a stake in Hasselblad in late 2015. Their first joint product, released last July, combined the M600 drone platform with the A5D medium-format camera.
The new combination will be released in the third quarter of this year at a price to be announced later, the companies say.