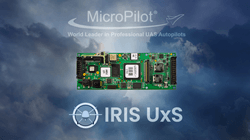 Kongsberg Geospatial, an Ottawa-based geospatial visualization software company, and MicroPilot, a provider of unmanned aerial vehicle (UAV) autopilots, have announced a new integration.
The Kongsberg Geospatial IRIS UxS Fleet Control Station has been integrated with the MicroPilot MP2x28 series of autopilots to enhance the ability of UAV operators using MicroPilot autopilots to conduct operations beyond the visual line of sight (BVLOS).
The Kongsberg Geospatial IRIS UxS Fleet Control Station technology enables multiple drones to be monitored and controlled simultaneously by a single operator. It provides real-time calculation of aircraft separation, airspace monitoring alerts, and communications line-of-sight prediction to enable detect and avoid for safe BVLOS operations.
IRIS FCS integrates a variety of real-time data feeds, including ADS-B and local radar, to calculate detect-and-avoid warnings. IRIS provides real-time 2D and 3D visualization of data, as well as geofencing capabilities.
"Reliable and innovative operator control solutions supported by real-time airspace visualization is key to expanding BVLOS operations safely and effectively," notes MicroPilot's president, Howard Loewen.