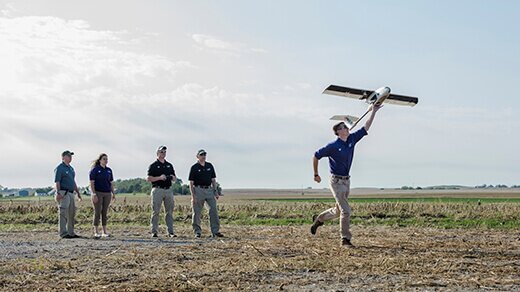 Kansas State University Polytechnic Campus has received a waiver from the Federal Aviation Administration (FAA) to fly unmanned aircraft systems (UAS) beyond the visual line of sight (BVLOS) of the operator.
According to the university, this marks the first such waiver granted to a university by the FAA.
"These operations and research will provide valuable insight into regulation and safety measures for UAS in the national airspace," says Travis Balthazor, K-State Polytechnic's UAS flight operations manager. "At the time of notification to us, the FAA's website showed only 20 waivers to this regulation, and only half are waived to allow small UAS operations where the remote pilot in command and the visual observers may not be able to see the aircraft."
Balthazor calls the waiver a significant step in the school's efforts to further develop the safety case for longer-range small UAS operations.
"We have been working deliberately over the last two years to demonstrate our ability to safely adhere to the standards set forth in our waiver," Balthazor explains.
Kansas State University is a member of the Kansas UAS Joint Task Force and a partner with the Kansas Department of Transportation, which was recently named one of 10 selections of the FAA's UAS Integration Pilot Program.