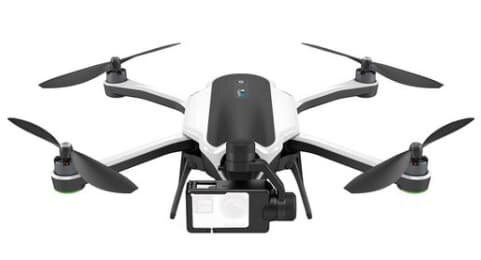 Along with the launch of its new HERO6 and Fusion cameras, GoPro Inc. has introduced a new GPS-based follow mode for its Karma drone.
Karma, now compatible with the HERO6 Black, features two new auto-shot paths: follow and watch. Using GPS, Karma can now automatically follow the controller and frame the user in the shot. The watch feature keeps the drone hovering in place while it rotates, keeping the Karma controller in frame wherever it goes.
Other new Karma updates include an expanded cable cam auto-shot path and a look-up camera tilt capability. With the cable cam feature, users can set up to 10 waypoints for more complex shots, and with look-up tilt, the camera can tilt upwards to look above the horizon, GoPro explains.
Current Karma owners can unlock the new features via a firmware update.
GoPro's founder and CEO, Nicholas Woodman, introduced the HERO6 Black and Fusion cameras to an audience at the California Academy of Sciences in San Francisco yesterday.
Powered by GoPro's custom-designed GP1 processor, HERO6 achieves 4K60 and 1080p240 video, as well as improved video stabilization. GoPro also launched Fusion, a waterproof, mountable, 5.2K spherical camera.
The Karma drone returned to the market early this year after having been recalled due to technical issues last November.