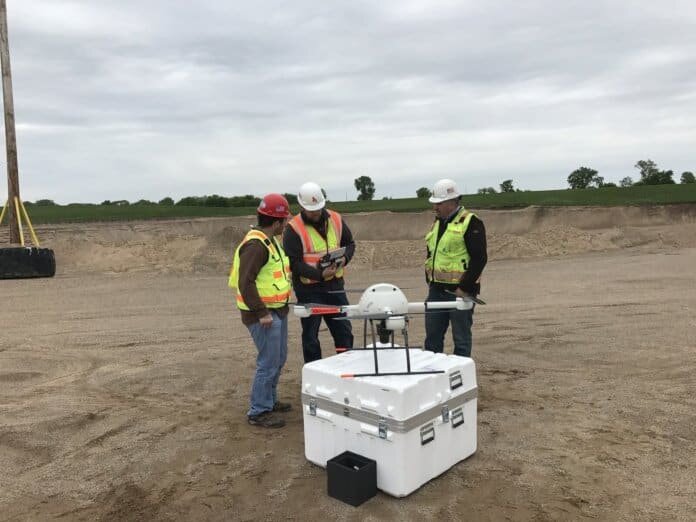 Frontier Precision, a provider of geospatial and construction equipment and services in the western U.S., is now offering Microdrones' unmanned aerial vehicle (UAV) mapping solutions.
The 25-year-old company services geospatial survey and GIS mapping, field data collection, mosquito control, water resources, and construction customers throughout Minnesota, North Dakota, South Dakota, Colorado, Wyoming, Montana, Alaska, Idaho, Washington and Oregon.
"We're very excited about this technology and our partnership with Microdrones," says Steve Richter, vice president of sales and marketing for Frontier Precision. "We know this is a big part of our future."
He continues, "We had a lot of interest in multi-rotor aircraft when Trimble released their UAV. When we began servicing construction companies, we found UAS offered many benefits for that market also. Plus, we are seeing many customers who tested the water by purchasing low-cost drones that are now looking for something more professional. UAS is the direction these industries are headed, and we're looking forward to helping our customers reach their goals."
Frontier Precision has hired UAV specialist and certified pilot Jack Wilcox, who will focus strictly on getting users started with unmanned systems. Frontier Precision also recently completed Microdrones' mdAcademy training, including a specialized module that prepares the company to train others to use the systems.
"Since our training, we've flown multiple missions and demos for customers," notes Richter.
Starting immediately, Frontier Precision will offer Microdrones' mdMapper packages – complete solutions that include the drones, sensors and software. The mdMapper product line-up currently includes as follows:
mdMapper200: A small, compact drone that can be transported easily;
mdMapper1000: A mapping drone with longer flight times and resistance to harsh environmental conditions; and
mdMapper1000DG – A drone with the benefits of mdMapper1000 and the power of direct georeferencing.
Earlier this year, Microdrones forged a drone distribution agreement with Navigation Electronics Inc., which sells and services mapping, GIS, surveying, and construction equipment from Trimble and other manufacturers to companies throughout the southeastern U.S. In addition, Martin Instrument, an equipment provider for surveying and construction companies throughout Texas, recently added Microdrones' mdMapper UAS to its offerings.